If you buy through affiliate links, we may earn commissions, which help support our product reviews.
Last Updated: Oct 11, 2023
In today's fast-paced world, ensuring safety on the road has never been more crucial.
With the advent of the dash cam, drivers can now capture real-time footage that can be invaluable in an accident or dispute.
But not all dash cams are created equal, especially when recording in low-light conditions.
We've compiled this comprehensive guide, narrowing down the best front and rear dash cam with night vision technology.
Whether you're a daily commuter, a professional driver, or someone who wants the peace of mind that comes with high-quality driving surveillance, read on to discover the top options that promise to keep you covered, day and night.
In a hurry? Here's a quick preview of our top picks for 2023:
Top 7 Dash Cams with Night Vision (Front and Rear)
Why Trust Us: Our Expertise in the Tech Industry
At Trakkit GPS, we pride ourselves on our extensive experience and deep knowledge within the tech industry, particularly regarding car GPS tracking and GPS navigation systems.
Our seasoned team of tech experts works endlessly to test and review the latest gadgets available so you can make an informed decision when investing in technology for your vehicle.
You can trust us when we promote the best dash cam, GPS trackers, solar GPS watches, and other best-in-class GPS tech devices. Our commitment to providing quality content and advice is unmatched.
Continue reading to discover our carefully selected recommendations and valuable insights on selecting the optimal front and rear dash camera equipped with night vision capabilities.
Getting Started with a Front and Rear Night Vision Dash Cam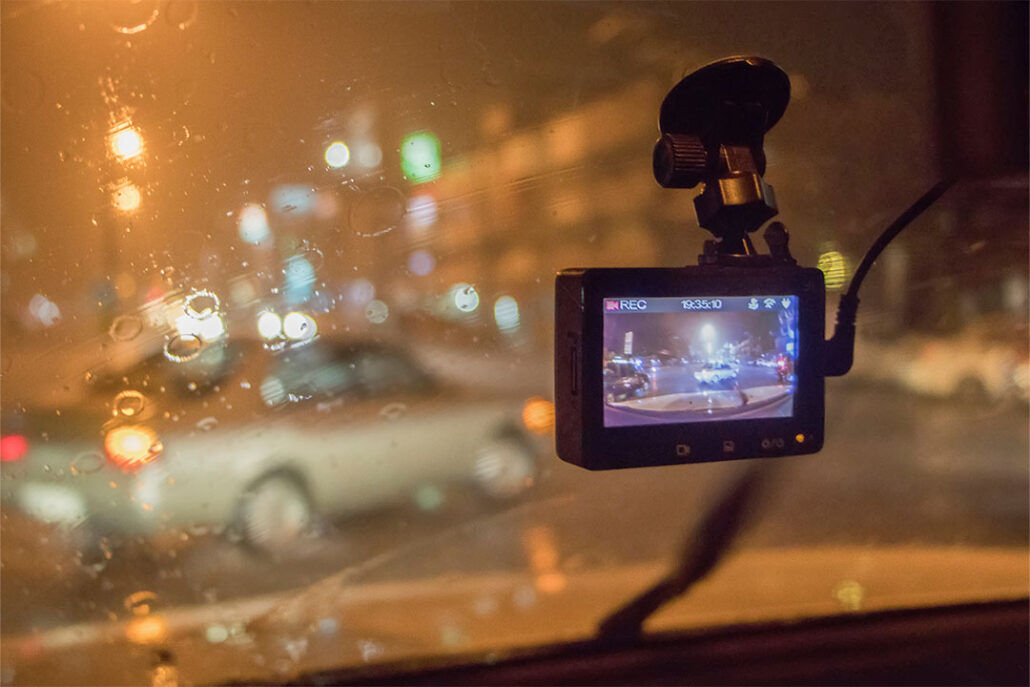 Front and rear night vision dash cams are essential for vehicle safety and accountability. These dual-lens cameras record your vehicle's front and rear views, ensuring comprehensive coverage.
The standout feature, night vision, uses advanced sensors and infrared technology to capture high-definition footage even in low light conditions or complete darkness.
For those curious about how thermal imaging compares to night vision in dash cams, check out our guide on the best thermal cameras.
Before purchasing a front and rear dash cam with night vision, consider factors such as:
Video Quality: Aim for at least 1080p resolution – the higher, the better. Look for night vision with infrared capabilities.
Storage Capacity: Dash cams with expandable storage will allow you to capture more footage. Look for models that would enable large SD cards or external SSD storage.
Field of View: A wider field of view means more coverage and a greater chance of capturing crucial details in an accident or incident.
GPS Location Recording: Dash cams with built-in GPS allow you to record and track your driving location. Helpful as evidence in an incident. See how GPS works.
Wi-Fi Connectivity: Dash cams with Wi-Fi allow you to connect to your smartphone to view or download footage on the go. It Makes accessing your videos more accessible.
Parking mode: Allows the dash camera to record incidents when your car is parked, turned off, and unattended. Requires hardwiring kit.
Telematics Insurance Requirements: Some insurance companies offer discounts for cars with telematics devices like dashcams. Check with your insurer for eligible dash cam models. Read more about Telematics Insurance here.
Your chosen device should be user-friendly, reliable, and durable. Remember, a front and rear night vision dash cam is an investment in your safety and can provide crucial evidence in the event of traffic incidents.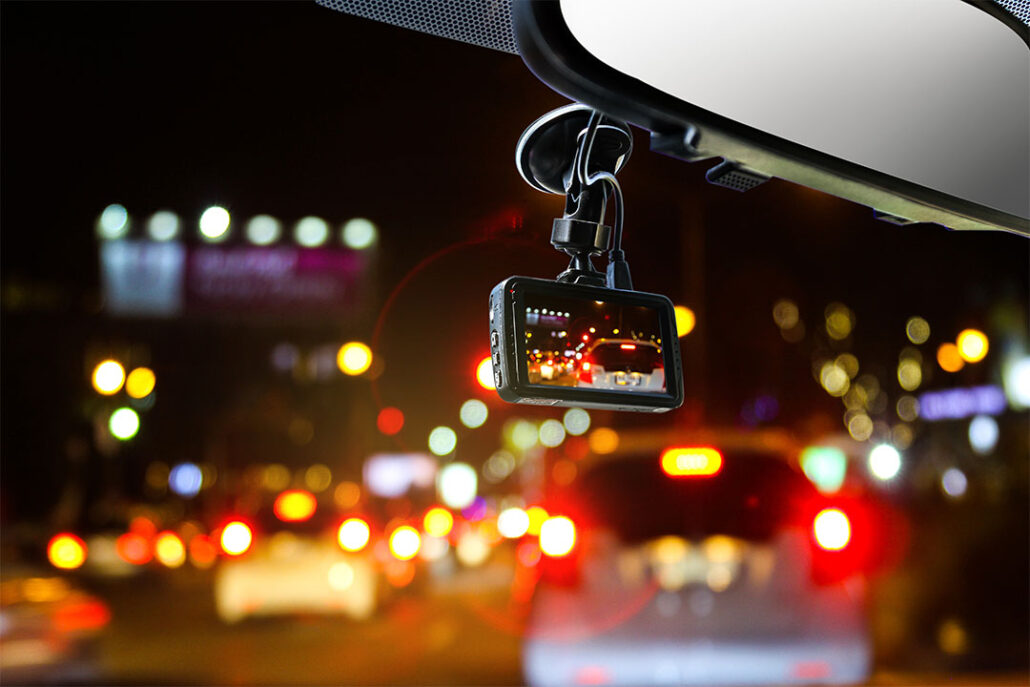 Now, let's take a look at our top picks for 2023:
The Best Front and Rear Dash Cam with Night Vision: Comparison and Reviews
REDTIGER HD Dash Cam: Overall Best Dash Cam
Features & First Impressions:
The REDTIGER HD Dash Cam stands out in the saturated dash cam market. One of its remarkable features is the 4K front and 1080p rear cam that offers an ultra-wide field of view, a crucial aspect in capturing vital details in case of an accident. While some might miss an interior camera, the superb clarity of the front and rear cameras compensates for it.
Our first impression was dominated by its compact design coupled with a high-resolution 3.18″ IPS screen–an attractive blend of aesthetics and functionality. The built-in wireless connectivity and integrated GPS features make capturing and sharing footage remarkably easy, cementing its reputation as the best dash cam available today.
Pros
High-resolution 4K front camera
Wide field of view
Built-in wireless and GPS
Compact design with IPS screen
Superior night video capture
Cons
The suction mount needs improvement
Performance & Overall Experience:
The performance of the REDTIGER HD Dash Cam impressed us immensely. Even in low-light conditions, the image quality surpassed many dash cams we have tested before. The night vision capability, in particular, stood out with crisp, clear footage that could make a significant difference in incident resolution.
The smartphone app was intuitive and user-friendly, allowing seamless access and sharing of the camera's recordings. The loop recording feature is excellent, erasing the need to delete old footage and ensuring uninterrupted recording.
As a dashboard camera, its power consumption was efficient and didn't put undue strain on the car battery.
Overall, the REDTIGER HD Dash Cam provided a stellar experience, marrying high-grade tech with user-friendly design at an affordable price.
Tested Features:
4K/1080p Video Quality
Field of View
Low-light Capability
GPS Tracking
Wi-Fi Connectivity
Smartphone App Functionality
Loop Recording Feature
---
AZDOME 4K Dual Dash Cam
Features & First Impressions:
The AZDOME 4K Dual Dash Cam impresses with its crystal-clear 4K Ultra HD video quality, capturing every detail with stunning clarity. Here are some key features that set this model apart:
Crisp 4K Ultra HD video quality for capturing every detail
Ultra-low light capture sensor and super night vision for clear footage in poorly lit conditions
Built-in 5GHz WiFi GPS for effortless video live viewing, downloading, and sharing on your smartphone
Lightweight and easy to mount with adhesive, adjustable for the perfect angle
Includes a free 64GB SD card and supports loop recording to eliminate storage space worries
24-hour parking surveillance with a 3-lead hardwire kit for round-the-clock coverage
Built-in capacitor for enhanced durability and safety on the road
We were pleasantly surprised by the overall ease of use and superior performance of the AZDOME 4K Dual Dash Cam. It's truly a worthy investment for your road safety.
Pros
Exceptional 4K Ultra HD video quality
Superb in low-light conditions
Integrated WiFi and GPS functionality
Generous 64GB SD card included
Reliable 24-hour parking surveillance
Cons
It may cause a noticeable battery drain
Performance & Overall Experience:
Our time using the AZDOME 4K Dual Dash Cam was nothing short of impressive. The device performed seamlessly, capturing high-definition footage during the day and night, thanks to its excellent low-light sensor and night vision capabilities.
Its WiFi and GPS functionality worked flawlessly, enabling efficient video live viewing, downloading, and sharing on our smartphones.
The adhesive mounting was simple to install and adjust, and the generous inclusion of a 64GB SD card meant we never had to worry about running out of storage for our recordings.
The 24-hour parking surveillance, powered by a 3-lead hardwire kit, provided reliable surveillance when our vehicle was unattended. However, some of our testers experienced a noticeable battery drain associated with using this dash cam, which is worth considering before purchase.
Overall, the AZDOME 4K Dual Dash Cam is a high-performing, reliable, and user-friendly device that dramatically enhances road safety.
Tested Features:
4K Ultra HD video quality
Ultra-low light capture sensor
Super night vision
Built-in 5GHz WiFi GPS
Loop recording
24-hour park mode
---
Garmin Dash Cam Tandem
Features & First Impressions:
The Garmin Dash Cam Tandem is a compact yet powerful device that brings a pile of impressive features to the table. One of its most striking attributes is the dual-lens setup, offering 180-degree views from its front and interior-facing cameras. The front-facing lens captures high-definition video in 1440p while the interior-facing lens records clear 720p footage, even under low-light conditions, thanks to Garmin's exclusive NightGlo technology.
The GPS sensors accurately document where and when events occur, providing a detailed context to the recorded footage. Moreover, the device offers voice control functionality, making it hands-free and safe to operate while driving.
The wireless connectivity works seamlessly with the Garmin Drive smartphone app, making viewing and sharing videos directly from your phone easy. Our first impression of this device is one of compact sophistication and user convenience. It's a leading dash cam with advanced features and intuitive operation.
Pros
Front and rear coverage
NightGlo technology
Voice control integration
Built-in Wi-Fi and GPS
Compact and portable
Cons
Hardwire cable is sold separately
Performance & Overall Experience:
We love to test dash cams that claim to work great at night, and the Garmin Dash Cam Tandem did not disappoint. Its 1440p front-facing camera captured clear, detailed footage even in low-light conditions. In contrast, the interior-facing camera provided a surprisingly crisp 720p resolution.
The NightGlo technology truly stands out as it illuminates the vehicle's interior without being too harsh on the eyes. Voice control operation worked flawlessly, and we appreciate its hands-free functionality.
The built-in GPS and Wi-Fi also performed well, allowing easy video access from our phones.
This top-performing front and rear dash cam has exceptional night vision capabilities.
Tested Features:
1440p Front-Facing Camera Quality
720p Interior-Facing Camera Quality
NightGlo Technology Performance
Voice Control Functionality
Built-In GPS Performance
Wi-Fi Connectivity Performance
---
THINKWARE U1000 Dual Dash Cam
Features & First Impressions:
The THINKWARE U1000 is one of the best dash cams on the market, offering compelling features that set it apart. It has a 4K UHD front camera and a 2K QHD rear camera for clear footage.
The built-in GPS tracking system allows drivers to locate themselves during incidents easily. The THINKWARE U1000 competes favorably with the Garmin Dash Cam regarding speed monitoring and driver assistance.
Its sleek design and user-friendly interface make it a reliable choice for any driver who prioritizes safety and quality. The THINKWARE U1000 is a worthy investment.
Pros
Stellar image quality in low-light conditions
Superior G-Sensor for impact detection
Advanced Speed Camera for monitoring
Intercepting Dash Cam Mini 2's market
Impressive durability with minimal dash cam drain
Cons
Potential drain on car battery
Performance & Overall Experience:
Our experience testing the THINKWARE U1000 was spectacular. The dashcam's performance, especially its G-sensor, impressively detected impacts and promptly saved crucial video footage.
The quality of the footage, both day and night, was clear and sharp, thanks to its superior night vision and 4K UHD capabilities. The handy cloud storage feature ensures seamless backup of your video files, allowing for remote access and guaranteeing the safekeeping of crucial footage in case of an accident.
The dashcam's advanced safety features provided timely alerts on potential collisions and lane departures, significantly enhancing road safety.
The magnetic mount allowed for easy installation without professional help. Dash cams are generally legal in most states as long as they don't obstruct the driver's view.
The THINKWARE U1000 proves why it's a leader in the dash cam industry.
Tested Features:
4K UHD Front Camera
2K QHD Rear Camera
G-Sensor Impact Detection
GPS Tracking System
Speed Camera Monitoring
Night Vision Capability
Cloud Storage Functionality
---
Nextbase 622GW Front and Rear Dash Cam w/ Night Vision
Features & First Impressions:
The Nextbase 622GW dash cam sets itself apart from other dash cams with its superior features and impressive performance.
On our first run with the Nextbase 622gw, we were taken by its 4K Ultra High-Definition automatic recording, arguably the best dash cam image quality we've seen.
The device boasts many advanced features, including night vision, slow motion at 120fps, image stabilization, and an integrated voice AI, GPS, and Bluetooth system.
The dash cam footage is remarkably clear, even outperforming the Garmin dash cam in low-light conditions. Furthermore, its Alexa-enabled voice control, 5GHz Wi-Fi, and parking coverage, necessitating a hardwire kit, all contribute to a user-friendly experience.
Pros
Best dash cam for clarity in video quality
Dual-view dash cam enhances safety coverage
Records video in slow motion at 120fps
Features interior camera for comprehensive surveillance
Cons
Our first device had a battery failure
Performance & Overall Experience:
The Nextbase 622GW dash cam's performance is outstanding, especially in its ability to record video in various conditions. Its magnetic mount system particularly impressed us, providing an easy and secure setup.
Unlike some Garmin dash cams, this model's superior 4K UHD resolution delivers crystal-clear footage, day or night. Additionally, the dash cams legal compliance is well-addressed, preserving privacy while ensuring safety.
The Nextbase 622GW's smart features, such as inbuilt Wi-Fi, GPS, and Bluetooth, provide a seamless and convenient user experience. To sum up, our overall experience with the Nextbase 622GW was positive—it offers a unique blend of functionality and innovation, standing out as a superior choice in the dash cam market.
Tested Features:
4K Ultra High-Definition recording
Enhanced night vision capability
Slow motion at 120fps
Image stabilization
Inbuilt GPS and Bluetooth
Alexa-enabled voice control
---
Vantrue N4 Dash Camera with Night Vision
Features & First Impressions:
The Vantrue N4 dash cam stands out with its compact design, easily fitting on your dashboard without obstructing your vision.
It boasts a three-channel camera lens system, ensuring that the way dash cams work is revolutionized. The system comprises front, inside, and rear cams, delivering comprehensive coverage to record footage of your driving journey.
What struck us during our first impression was the quality of night vision, supported by 4 IR LED lights, perfect for capturing clear images even in low-light conditions.
The N4 also includes an intuitive phone app that offers seamless connectivity, allowing you to access and manage your recorded footage easily. In the realm of dash cameras, the Vantrue N4 stands as a good dash cam choice for any driver wanting complete recording coverage of their vehicle.
Pros
Impressive HD resolution for clear footage
Integrated GPS for location tracking
Expansive memory card capacity
High-quality video clips
Right dash cam for comprehensive coverage
Cons
Poor lifespan in park mode without hardwiring
Performance & Overall Experience:
In terms of performance, the Vantrue N4 dash cam delivers premium features that genuinely enhance the driving experience. The integrated GPS functioned flawlessly during our tests, accurately tracking our location and embedding it into the recorded footage. This feature, combined with the sizable memory card capacity, ensured a seamless recording experience over extended periods. Moreover, the rear-facing camera provided clear and crisp recording quality, effortlessly capturing details such as license plates, even in low-light conditions.
Notably, the camera's wide dynamic range significantly improved the footage quality by balancing the light and dark areas of the image. Handy features such as motion detection and collision triggers further enhanced the overall utility value of this dash cam.
We found ourselves thoroughly impressed by the N4's performance and user-friendly interface, underlining its status as a top-tier choice for drivers seeking a dash cam loaded with premium features.
Tested Features:
High-definition video quality
Integrated GPS functionality
Expansive memory card capacity
Rear camera performance
Motion detection sensitivity
Low-light recording capability
Interface usability
---
BlackVue DR900X-2CH Night Vision Dash Cam
Features & First Impressions:
The BlackVue DR900X-2CH is more than just a dash cam; it's a comprehensive driving companion packed with standout features. As a top contender for the best dash cam available on the market, it offers a dual-view dash cam system with superior 4K UHD resolution at the front and full HD resolution at the rear.
It has built-in WiFi for instant video access and GPS for precise location tracking. The dash cam is also armed with a park mode, which can be hardwired into your vehicle's fuse panel, ensuring round-the-clock surveillance.
Upon unboxing and initial interaction, we were particularly impressed with the DR900X's compact and discreet design, which allows it to blend seamlessly into any vehicle interior. The build quality exudes durability, and the performance easily meets, if not exceeds, high-end product expectations. However, be prepared for a monthly cost if you wish to avail yourself of the full range of benefits.
Pros
Superior 4K UHD front camera
Full HD rear-facing cameras
Convenient built-in Wireless connections
Accurate GPS tracking
24/7 parking surveillance
Compact, seamless design
Cons
Monthly cost for all the features
Performance & Overall Experience:
From our hands-on tests, the BlackVue DR900X-2CH delivered impeccable performance. The dash cam directly captures crystal-clear 4K UHD video at the front and Full HD at the rear, ensuring that every critical detail is recorded.
Even in low-light conditions, both cameras exhibit excellent clarity. The WiFi and GPS functionalities worked flawlessly, providing steady connectivity and accurate location tracking.
The parking mode offers peace of mind by monitoring your parked vehicle around the clock. However, remember that the monthly cost is a downside if you wish to enjoy all these features.
Overall, our experience with the BlackVue DR900X-2CH was overwhelmingly positive, and it certainly lives up to its reputation as a high-end dash cam solution.
Tested Features:
4K UHD Front Camera
Full HD Rear Camera
Built-in WiFi
GPS Tracking
Parking Mode
---
How to Install a Front and Rear Dash Cam
Installing a front and rear dash cam with night vision is straightforward. Most of these devices include a suction cup or an adhesive mount to attach the camera onto your car's windscreen or dashboard and cables for connecting it to a power source.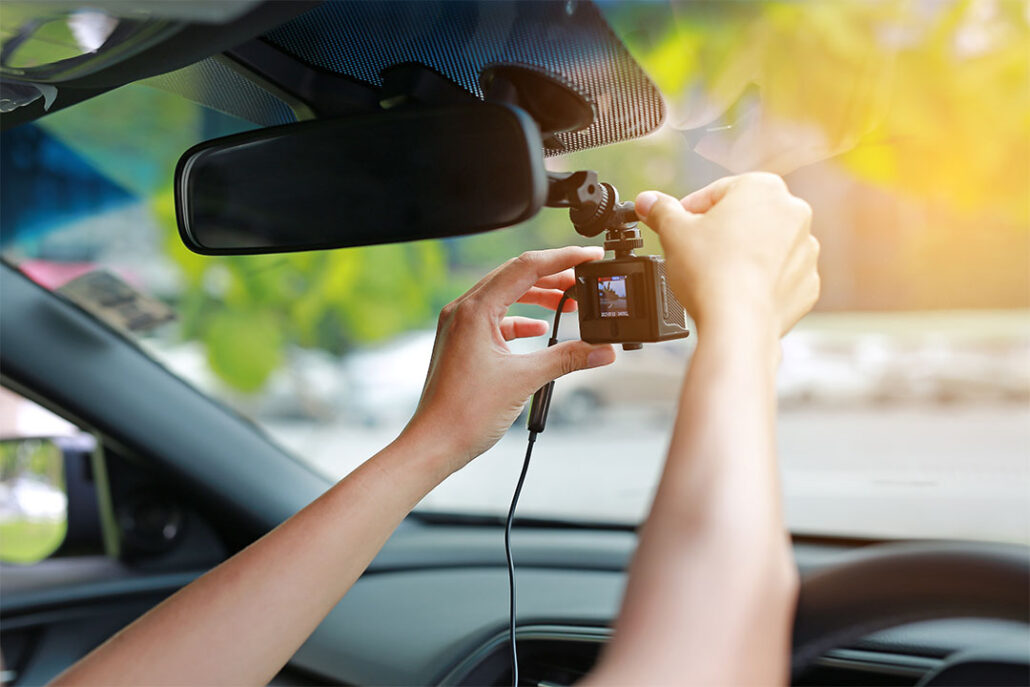 Here are the steps to install most dash cams:
Clean the windscreen or dashboard surface where you will attach the camera mount. Make sure the surface is free of dust or other debris.
Securely attach the adhesive or suction cup mount to the chosen surface.
Install the SD card.
Connect the plug to the car's 12v outlet or other power source, ensuring all connections are securely in place.
Adjust the position of your camera to ensure it has a clear view of both front and rear views.
Route the cables from your windshield to the outlet so you don't have a bunch of wires showing.
Route the rear camera cable to the rear of your car, tucking the cable behind the paneling or carpet.
Test your dash cam to ensure it works appropriately, recording front and rear views with night vision capabilities.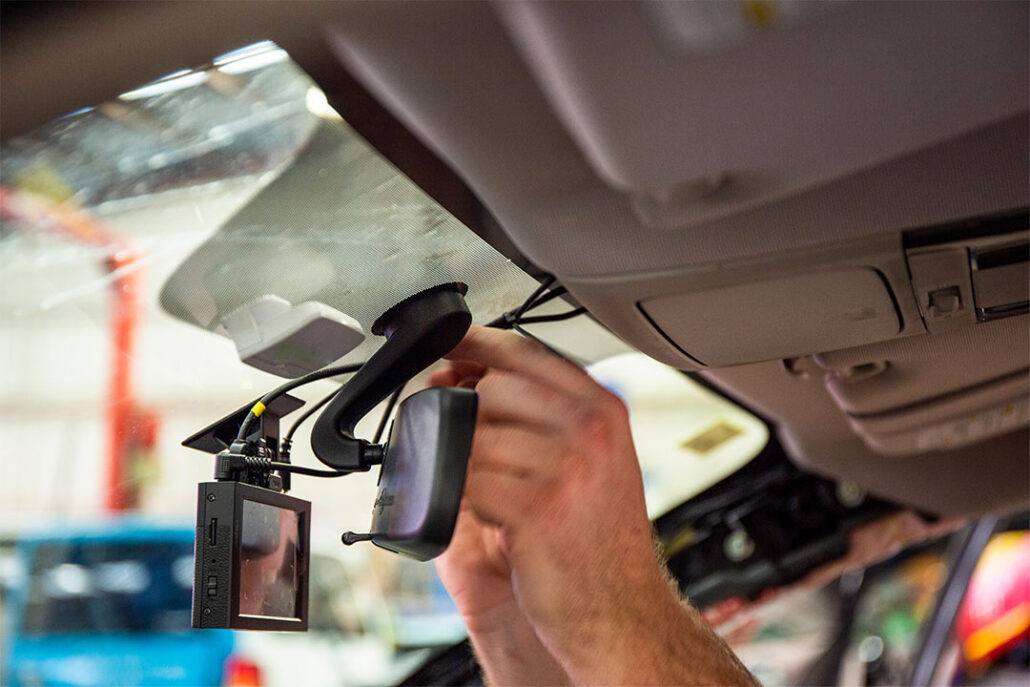 Tips for Best Results
When installing a front and rear dash cam with night vision, there are some essential tips to follow:
Place the camera as close to the center of your windscreen as possible for optimum coverage. Avoid positioning it too low or too high – ideally, the camera's top should be level with your car's rearview mirror. – Route the cables away from any airbags or other components to avoid potential damage.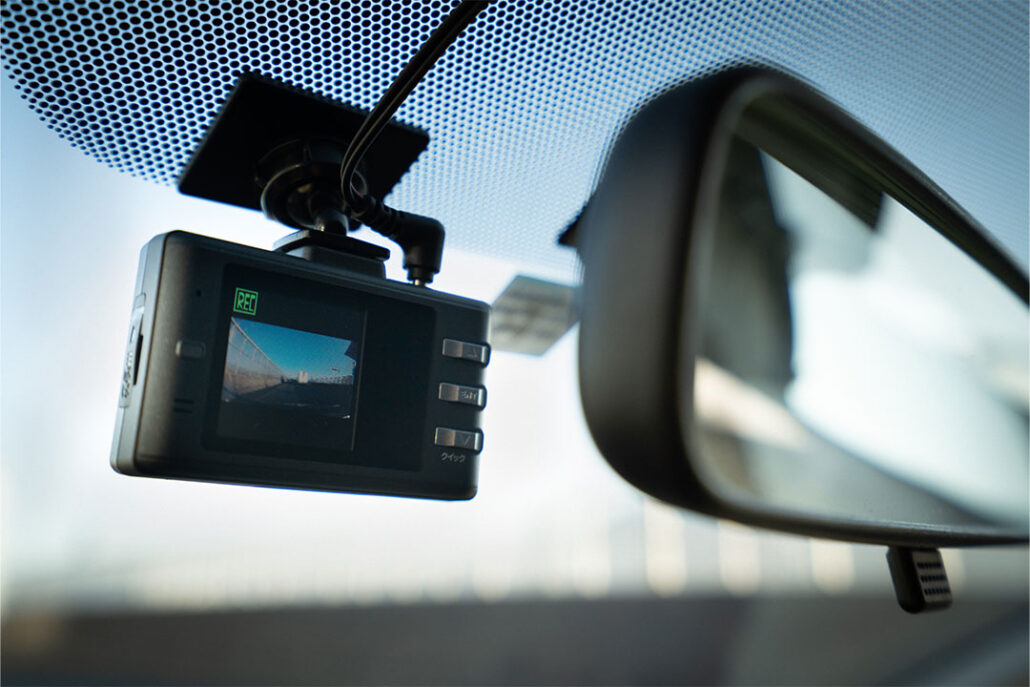 Make sure your camera has a clear field of view and no obstructions. This will ensure that all footage is captured without issue.
Check that your car's power outlet is functioning correctly before connecting the dash cam.
Get a large enough SD card to record many hours of driving.
Following these tips will ensure you get the most out of your device and maximize road safety for yourself and others.
Final Thoughts
Investing in a front and rear night vision dash cam is a decision that prioritizes safety and assures you of evidence when unexpected road incidents occur.
This device becomes an essential travel companion with the proper selection, installation, and usage.
To take your capabilities to the next level, check out our all-inclusive guide on the top car GPS navigation systems. Get equipped with the tools you need for a secure and efficient journey.
Frequently Asked Questions
Do dash cams record when the car is off?
Yes, most of the best dash cams have a "parking mode" feature, which allows them to record when the car is off. This feature is triggered by motion or impact detected in the vicinity of your vehicle, ensuring that any incidents that occur while you're away from your car are captured. 
However, remember that this feature might require a hardwiring kit or an external battery pack to ensure it does not drain your car's battery.
Can dashcams see in the dark?
Yes, the best dash cams typically come with night vision capabilities. They use advanced sensors and lens configurations to capture clear footage even in low-light conditions. 
Some high-end models use enhanced technology like infrared or thermal imaging to improve the clarity of the footage in the dark. However, the effectiveness of night vision can vary between models, so it is crucial to review the specific night vision capabilities of a dash cam before making a purchase.
Can a dash cam record front and rear at the same time?
The best dash cams are designed to record both front and rear camera views simultaneously. These dual-channel systems have two cameras – a front-facing unit to capture everything in front of your vehicle and a rear-facing unit to record what's happening behind. 
Recording front and rear views concurrently captures comprehensive evidence of an accident or road accident. It's crucial to note, however, that the picture quality of the rear camera is often lower than the front one. Nevertheless, the best dash cams ensure precise and reliable recording from both ends.
Is it worth getting a front and rear dash cam?
Yes, investing in a front and rear dash cam is worth it. These devices provide an added layer of security and peace of mind while driving. They can capture crucial evidence in case of accidents or incidents on the road, protect against false insurance claims, and even deter potential crime or vandalism to your vehicle.
Front and rear dash cams with night vision capabilities are handy for those who often drive at night or in low-light conditions. Plus, their easy installation and user-friendly features make them a practical and cost-effective investment for any driver looking to enhance their safety on the road.