Last Updated Sept 16, 2023
Navigating an unfamiliar golf course can be frustrating and time-consuming, making the best golf GPS devices a must-have for many players.
These gadgets give exact yardage to the target and provide insights and analytics that help take your game to the next level.
Whether you're looking for something handheld or a device that mounts directly on your cart, we've researched 8 of the best golf GPS units currently available — allowing you to make the most out of each round.
Discover the 8 best Golf GPS devices and handhelds to elevate your game. Get accurate yardages and valuable insights. Boost your performance on the course. Explore both handheld and cart-mounted options. Upgrade your game today.
If you're also interested in tracking your golf bag with GPS, you might want to check out our latest write-up on the best GPS trackers for your golf bag.
Are you in a rush? Here's a quick preview of the Top golf GPS devices and handhelds we covered:
Top Golf GPS Units: Quick Preview
Why Should You Care What We Have to Say?
At Trakkit GPS, we pride ourselves on our in-depth research and testing methods on every product.
Our Team
Our team comprises golf enthusiasts, expert GPS tech reviewers, and seasoned sports equipment analysts who bring their combined knowledge and experience to the table. We review each product thoroughly, considering many variables – from usability and features to durability and value for money.
Our Analysis
Our analysis is independent and unbiased – we do not accept free products from companies or let commercial relationships influence our reviews. We are just ordinary consumers who wish to share our honest opinions and experiences with our audience.
Our Sole Aim
Our sole aim is to present you, the reader, with reliable, honest, and practical information to help you make informed decisions. Trust us to guide you to the perfect GPS device for your golfing needs.
If you're looking for specialized golf cart GPS trackers, we've got you covered as well.

What is a Golf GPS Device? How Can It Elevate My Game?
If you're passionate about golf, you may have encountered some of the best Golf GPS Devices in your quest to refine your skills and elevate your gameplay. But what exactly does this high-tech gadget do, and why might it be an indispensable addition to your golf bag?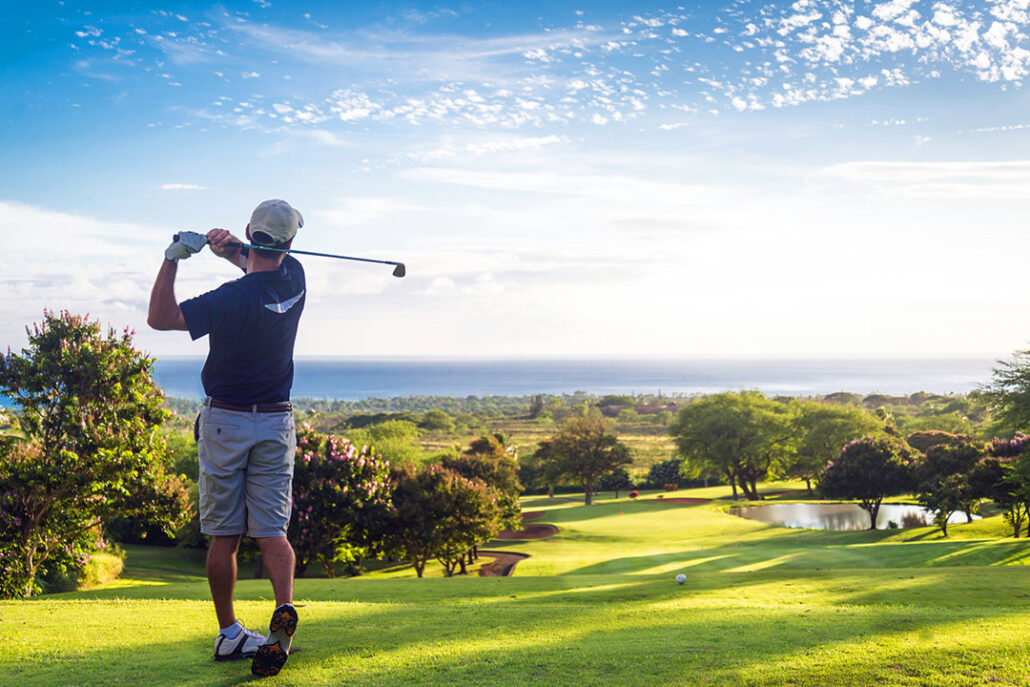 A golfing handheld GPS device is specialized equipment that leverages satellite technology to provide real-time, pinpoint data about the course you're playing.
Imagine having a virtual caddy that can instantly tell you the distance to the hole, hazards, fairways, and greens—allowing you to make strategic choices that align with your skills and game plan.
Learn more about how GPS works.
Why Consider Investing in One?
The information and features packed into golf GPS watches or the best golf GPS handhelds are not just bells and whistles—they're practical tools that can lead to measurable improvement in your game. You can select the perfect club for each shot with precise distance measurements.
Score tracking and statistical analysis serve as vital feedback mechanisms for ongoing improvement.
If you're considering investing in a GPS device for golfing, you'll want to pick one that best suits your needs and level of expertise. If you wish to use wearable golf GPS devices exclusively, check out our review of the best golf GPS watches.
Is it worth investing in a golf GPS device?
Absolutely! Particularly for those who are fully dedicated to enhancing their skills and gaining a substantial competitive advantage, the answer is a resounding yes.
The Advantages of Using a Golf GPS Device or Handheld GPS Unit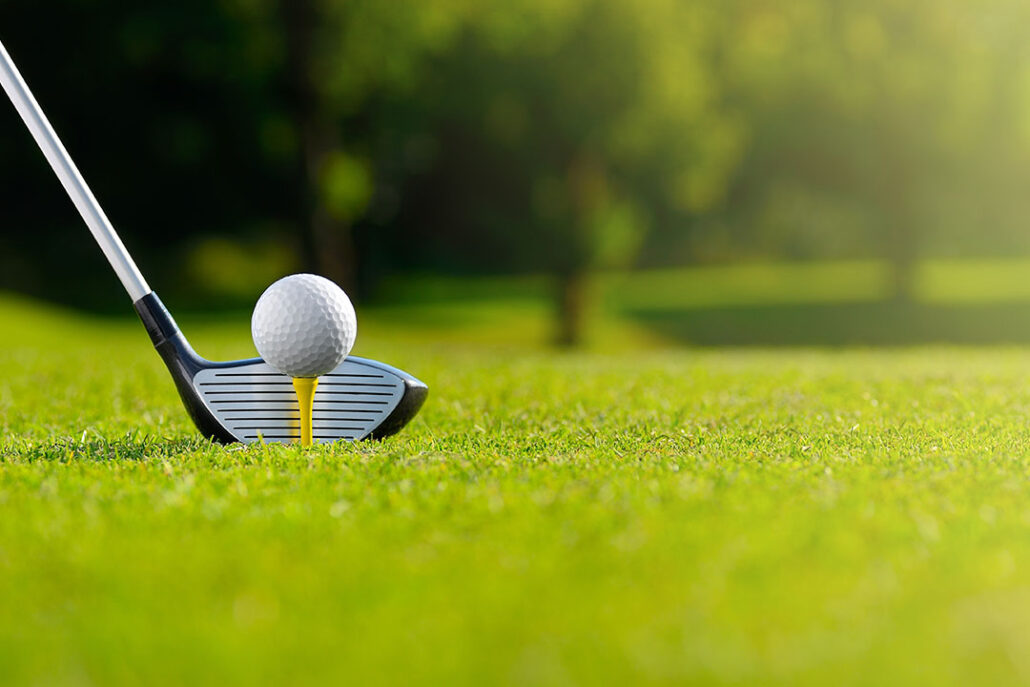 A GPS device or handheld GPS unit for golf can vastly improve your game on the green. With its quick and accurate readings of distance and layout, a GPS device can help you better plan your shots and avoid hazards.
Here are some of the significant advantages you gain by having one of the best golf GPS or handheld GPS units:
Accuracy
Golf GPS handhelds provide precise distances to the front, middle, and back of the green, as well as to hazards and layups, helping you make more accurate shots.
Course Knowledge
These devices often come pre-loaded with thousands of courses worldwide, providing a detailed layout of any course you're playing on.
Improving Strategy
By offering insight into the course layout and various distances, golf GPS devices aid in strategic decision-making for each shot.
Enhanced Convenience
Unlike traditional yardage books, most golf GPS devices are compact and convenient to carry around during your round.
Speeding Up Play
With immediate access to needed information, play speed can be significantly increased, making the game more enjoyable.
Tracking Progress
Many golf GPS devices also feature score tracking and statistical analysis, helping you track your progress and identify areas for improvement.
Confidence Booster
Knowing the exact distance to the target and hazards can boost confidence, leading to improved performance on the course.
As you can see, there are many advantages to owning and using a GPS device for golf or golf GPS handhelds. From improved accuracy to helping build course knowledge, these gadgets have the potential to take your game to the next level.
For those looking to go green while improving their game, consider investing in a solar panel for your golf cart. Some solar GPS watches are also available if you prefer a wearable device.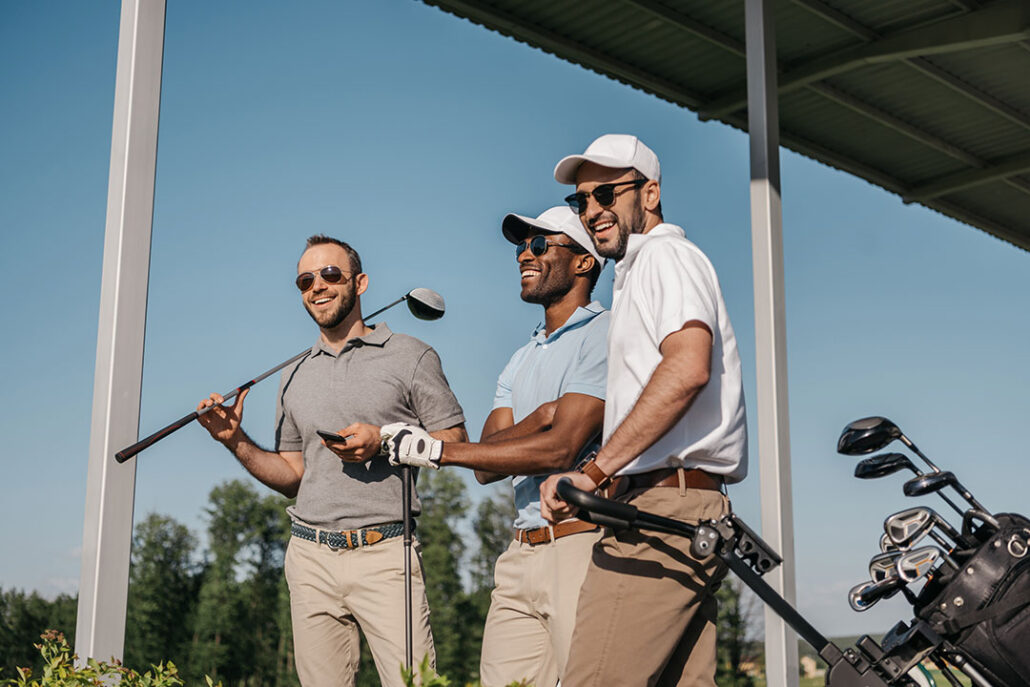 Top 8 Golf GPS Devices: Best Handheld GPS Units for Golfing
Garmin Approach G12
Details & First Impressions:
The Garmin Approach G12 GPS truly sets itself apart with its extensive range of features. Its compact design includes a built-in clip and lanyard loop for effortless portability. Notably, it comes pre-loaded with over 42,000 courses, showcasing its global versatility.
This device offers Green-View, providing accurate measurements of the green's front, back, and middle, along with hazards and doglegs. It also includes a digital scorecard and club tracking feature, elevating your strategic game planning.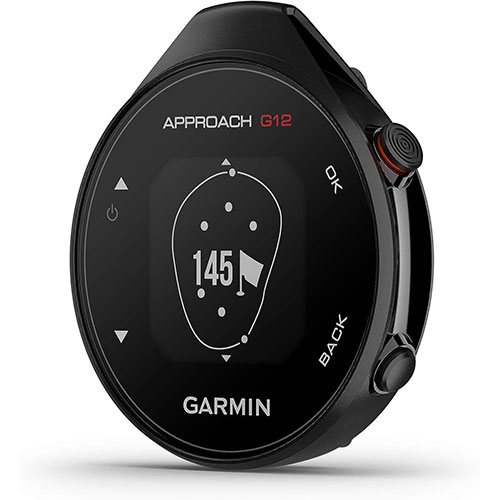 The unit is an IPX7 waterproof device, making it a reliable companion in unfavorable weather conditions. The long-lasting, rechargeable battery promises up to 30 hours of life in GPS mode, meaning you won't have to worry about it dying mid-round.
Upon first impression, the Garmin Approach G12 Golf GPS is one of the best handheld units we have come across. The device is also compatible with the Garmin golf app, enhancing its functionality and user experience.
Pros
Compact and portable design
Extensive pre-loaded course database
Accurate readings and measurements
Long-lasting battery
Convenient digital scorecard feature.
Cons
Requires a compatible smartphone for the Garmin Golf app
Performance & Overall Experience:
During our hands-on testing, the Garmin Approach G12 exceeded our expectations in terms of performance. The GPS function was highly accurate, and course recognition was swift and precise, covering a wide range of international courses.
The device's compactness and robust clip mechanism made it exceptionally portable and easy to use on the move. The digital scorecard and club tracking features enhanced our strategic play, providing a clear picture of progress and areas for improvement. The battery was indeed long-lasting, easily lasting for multiple rounds.
Our experience was highly positive, reinforcing the Garmin Approach G12 as a reliable golfing companion that adds significant value to the game.
Tested Features:
GPS Accuracy
Course Recognition
Portability
Digital Scorecard
Long Battery Life
---
Golf Buddy Voice Caddie 2
Details & First Impressions:
The Golf Buddy Voice Caddie 2 is one of the best golf GPS units with many features and functionality. Its compact design ensures convenience without compromising on performance.
One of its standout features is the talking GPS rangefinder, which conveniently clips onto your hat or belt and provides accurate, male or female voice-guided distances to the green's front, middle, and back.
Pre-loaded with over 40,000 worldwide courses, this affordable device boasts automatic course and hole recognition, making it a reliable guide even on unfamiliar terrain.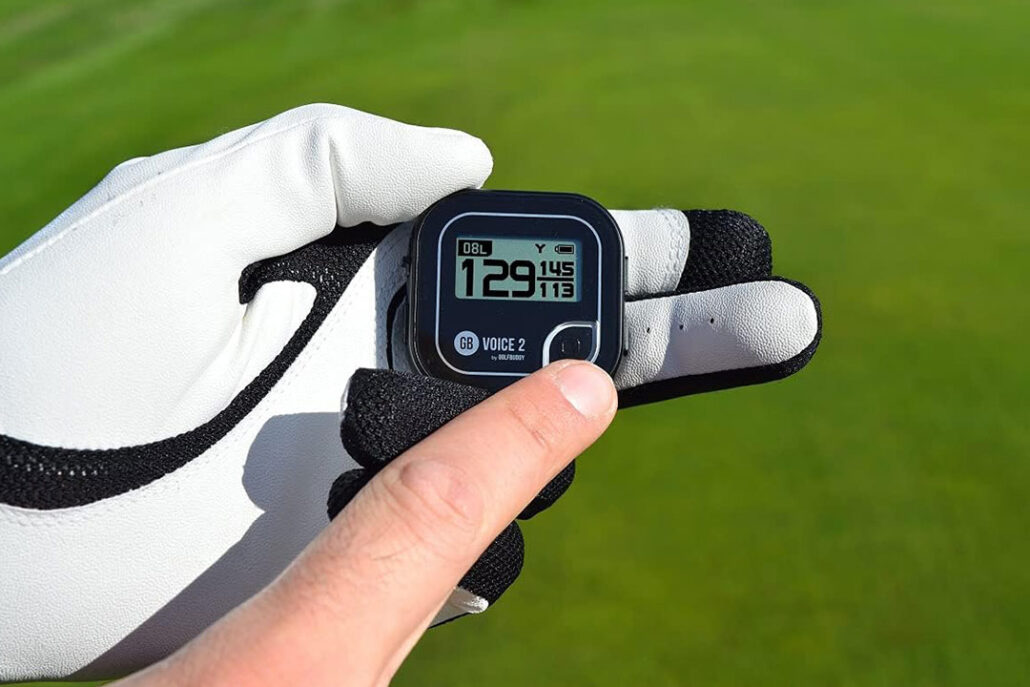 From our first impression, the device seems robust, with a long-lasting battery and a waterproof design ready to withstand challenging weather conditions. Its green view feature, showcasing the green's layout from the player's perspective, enhances strategic planning. The shot distance measurement function is another impressive addition that could significantly improve game performance with its accurate measurement.
It offers excellent value for money with no download charges or annual subscription fees.
Pros
Accurate Rangefinder
Long-lasting Battery
Pre-installed Courses
Slope feature
Convenient Clip-on
No Extra Fees
Cons
Performance & Overall Experience:
In terms of performance, the Golf Buddy Voice 2 impresses with its accuracy and speed of operation. It delivers precise measurements swiftly, which significantly enhances gameplay and decision-making. The voice caddie feature is clear and loud enough to be heard even in windy conditions.
The battery is true to its claim, lasting for multiple rounds of golf before recharging. The automatic course and hole recognition feature worked seamlessly in our tests, even on less popular courses.
Given its robust build quality, intuitive interface, and many useful features, our overall experience with the Golf Buddy Voice 2 has been highly satisfactory. It has proved to be a worthwhile investment to improve our golf game.
Tested Features:
Accuracy
Speed of Operation
Voice Clarity
Battery Life
Automatic Course Recognition
---
Bushnell Wingman View Golf Speaker
Details & First Impressions:
The Wingman View Golf Speaker possesses a unique combination of features that sets it apart. It is not just a new golf GPS but also a Bluetooth speaker. The device has a built-in USB port and delivers premium sound quality, perfect for enjoying your favorite tunes on the course.
What caught our attention was the removable bite remote and the handy display, which shows up to 6 audible and viewable hazard distances per hole. The device also boasts worldwide maps and a convenient integrated bite magnetic cart mount. The power for 36 rounds is a notable feature, too.
Among its GPS features, the device offers an easy-to-read LCD screen and worldwide maps, enhancing its utility on the course. For those who are interested, the device is also compatible with the Bushnell app, offering even more functionality. However, the display can be brutal to see in direct sunlight, which is something to keep in mind.
Pros
Bluetooth Speaker Integrated
Display Hazard Distances
Worldwide Maps Available
Integrated Magnetic Mount
Long-lasting Battery
Cons
Display hard to read in sunlight
Performance & Overall Experience:
The Wingman View Golf Speaker delivered impressive performance. Here are some key features that stood out:
Accurate and timely GPS information for effective course strategy.
Bonus Bluetooth speaker functionality with crystal-clear audio.
Superb, long-lasting battery, lasting for an entire day on the course.
While the display visibility in direct sunlight could be challenging at times, overall, our experience with this GPS speaker was very positive. It was easy to use and added a new dimension to our golfing experience.
Tested Features:
GPS Accuracy
Bluetooth Sound Quality
Battery Longevity
Display Visibility
Ease of Use
---
Garmin Approach G80
Details & First Impressions:
The Garmin Approach G80 stands out with its 3.5-inch color touchscreen display, offering a clear and intuitive interface. It comes pre-loaded with over 41,000 golf courses, making it a handy companion for local and international golf excursions.
One of its distinctive features is the built-in launch monitor radar bundle. This unique tool provides detailed shot data, measuring critical metrics like ball speed, club head speed, and launch angle. These launch monitor capabilities offer real-time feedback that is invaluable for swing analysis and improvement, empowering golfers to make data-driven decisions and elevate their game.
Our first impressions of the Garmin Approach G80 are overwhelmingly positive. The handheld device feels sturdy and well-constructed, with an ergonomic design that fits comfortably in hand.
The touchscreen boasts excellent responsiveness, ensuring effortless navigation while presenting course details with stunning high-definition clarity.
The launch monitor radar bundle is a game-changer, providing detailed analytics not commonly found in other golf GPS handheld devices.
Additionally, the handheld device offers manual pin placement, allowing for a more customized strategy when the pin location changes on the green mapping.
Pros
Extensive course database
In-depth shot analytics
Intuitive touchscreen interface
Durable, ergonomic design
Excellent long-lasting battery
Cons
Performance & Overall Experience:
In terms of performance, the Garmin Approach G80 delivers on its promises. The GPS is impressively accurate, providing precise distances to the green, hazards, and fairways. The launch monitor radar bundle is a standout feature, offering key metrics essential for swing analysis and game improvement. However, we did encounter one annoying issue: the device tends to go into sleep mode, requiring frequent restarts, which can interrupt play.
Here's a brief rundown of our experience:
GPS Accuracy: The device provided accurate and consistent readings, allowing for strategic decision-making on the course.
Launch Monitor Radar: This feature was a game-changer, offering deep insights into our swings and shot performance.
Ease of Use: The touchscreen interface was intuitive and easy to navigate, making the device a pleasure to use.
Battery Longevity: With up to 15 hours of battery, the device lasted through multiple rounds without needing a recharge.
Annoyance: The device's frequent transition to sleep mode was mildly irritating, requiring multiple restarts throughout play.
Despite the minor inconvenience, the Garmin Approach G80 has significantly enhanced our golfing experience, making it a worthwhile investment in a crowded golf GPS market.
Tested Features:
GPS Accuracy
Launch Monitor Radar Bundle
Ease of use
Long Battery Lifespan
---
Bushnell Phantom Golf GPS 2
Details & First Impressions:
The 2nd iteration of the Bushnell Phantom golf GPS Handheld stands out with its impressive features designed to enhance your golfing experience. One of our first impressions of this device is its compact yet sturdy build, fitting comfortably in your hand. It's worth noting the following key features:
Built-in Magnetic Mount: The integrated BITE magnetic mount is a highlight, attaching securely to any golf cart for easy viewing.
Accurate Distances: It provides large, easy-to-read front, center, and back of the green mapping, aiding your club selection and shot strategy.
Advanced Golf Data Metrics: The Phantom 2 offers up to six hazard/layup distances per hole, GreenView, Auto Course Recognition, and Auto Hole Advance, providing all the data you need to improve your game.
Shot Distance Calculator: This feature allows you to measure how far you hit the golf ball, aiding in better club selection.
Free Bushnell Golf App: The Phantom 2 pairs with the free Bushnell Golf App for wireless course updates and 3D flyovers.
These features, combined with the device's user-friendly interface, left a positive first impression, underscoring the device's potential to be an invaluable golfing companion.
Pros
Compact and convenient design
Accurate Range
Advanced golf data metrics
Integrated magnetic mount
Free app with course updates
Cons
Finding the right courses was difficult
Performance & Overall Experience:
The Bushnell Phantom 2 performed impressively during our testing, consistently providing accurate measurements and valuable data. The device's user-friendly interface made navigating through the different features easy, and the advanced metrics were readily available, aiding our game strategy.
The built-in magnetic mount proved extremely useful, holding the device securely on a golf cart throughout play. The free Bushnell Golf App effectively complemented the device, offering features like wireless course updates and 3D flyovers.
Finding the right courses could be challenging at times, but the overall performance and convenience of the Phantom 2 made it a worthwhile companion on the golf course.
Tested Features:
Built-in Magnetic Mount
Accurate Distance
Advanced Golf Data Metrics
Free Bushnell Golf App
Shot Distance Calculator
---
Izzo Swami 6000 Handheld Golf GPS
Details & First Impressions:
The Izzo Swami 6000 Handheld Golf GPS is designed with a user-friendly interface and a vibrant color display that ensures readability even under the bright sunlight. The device is pre-loaded with over 38,000 course maps worldwide, which are accessible without any subscription fees or hidden costs.
Additional Features:
The device features a scorekeeping function, empowering golfers to track their scores and analyze their game precisely. This capability enhances performance evaluation and facilitates insightful improvements in their gameplay.
The device offers accurate measurements for distances to the green's front, center, or back of the green. Moreover, it precisely calculates layup and carry distances to both hazards and doglegs. With its advanced capabilities, this device ensures precise and reliable data for golfers.
It also has additional features, auto-course recognition, and auto-hole advance, allowing it to automatically recognize the course you're playing on and advance to the next hole.
Overall, the Izzo Swami 6000 provides a blend of functionality and value, making it a promising gadget for golf enthusiasts.
Pros
User-friendly interface
Vibrant color detailed display
Pre-loaded with 38,000 courses
Accurate distance
Auto-course recognition
Auto-hole advance
Cons
Requires regular charging
Performance & Overall Experience:
The Izzo Swami 6000 Handheld Golf GPS was commendable in terms of performance. Its accurate distance marking provided strategic insights that were particularly helpful during gameplay. The auto-course recognition and auto-hole advance features worked seamlessly, enhancing our overall experience.
Our overall experience using this golf GPS was positive. We loved the vibrant color display and found the user interface intuitive, making leveraging the full range of features easy. This device is a game-changer for any serious golfer looking to improve their performance on the course.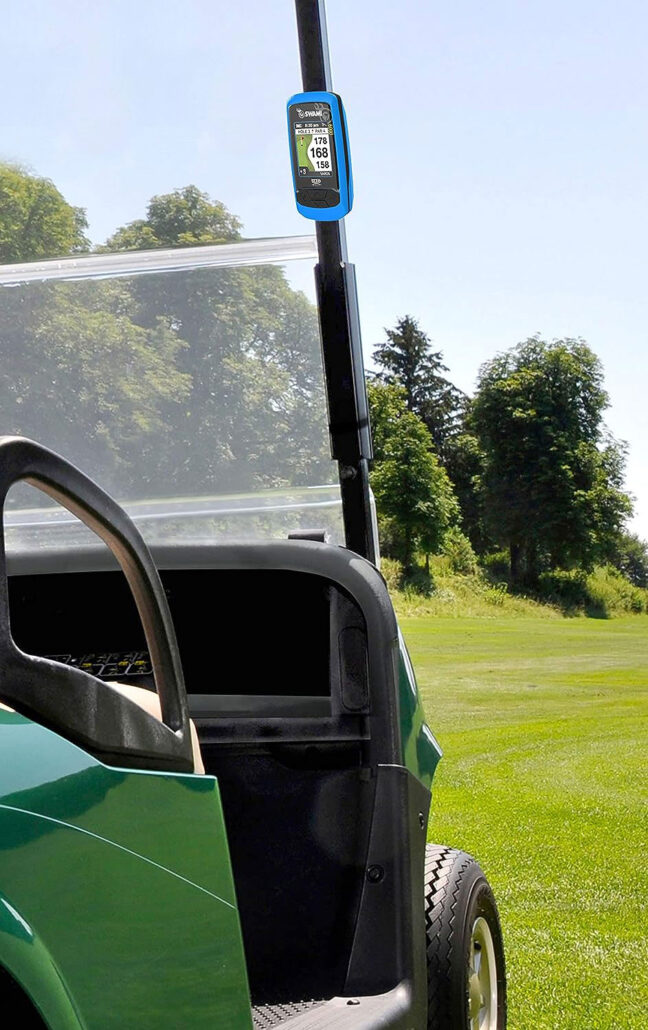 Tested Features:
User-friendly interface
Vibrant color display
Pre-loaded course data
Precise measurements of distance
Auto-course recognition
Auto-hole advance
Game statistics tracking
Long Battery life
---
Garmin Approach S62 Golf GPS Watch
Details & First Impressions:
The Garmin Approach S62 GPS Watch is one of the best GPS watches for golfers available at a premium price. An exceptional golf GPS watch boasting impressive features tailored to meet the needs of avid golfers. This GPS golf watch has been meticulously designed with a built-in virtual caddie that analyzes wind speed and direction and provides club recommendations based on your preferred swing distance with each club.
Experience the perfect blend of functionality and performance with the best golf GPS watch among available golf GPS watches on the market.
Here are some more notable features:
Full-Color Mapping: It's easy to navigate the golf course with the pre-loaded maps in vivid color on the 1.3-inch touchscreen display. You can view the entire course and hazards at a glance, making strategy planning a breeze.
Instant Stats: This device showcases your stats instantly—no need to wait or guess. It gives you a real-time understanding of your performance, including information like hazard view, wind speed, and direction.
Extended Battery longevity: One of the remarkable highlights is its impressive battery lifespan, boasting up to 20 hours in GPS mode. This ensures you won't be stranded during an extended match, giving you peace of mind.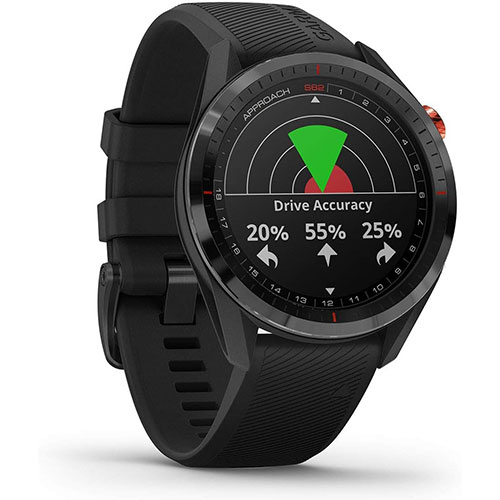 At first glance, the Garmin Approach S62 Golf Watch is a well-rounded device despite its complex usage. It's a combination of functionality and style that any golfer would appreciate. However, as with any device packed with features, there could be a learning curve to utilize everything it offers.
Pros
Precise and real-time data
Large, full-color display
Built-in virtual caddie
Extensive battery life
Pre-loaded with global courses
Cons
Performance & Overall Experience:
The performance of the Garmin Approach S62 Golf GPS Watch exceeded our expectations. The precision of the data provided played a pivotal role in enhancing our golfing strategy, and the built-in virtual caddie proved to be an invaluable asset.
We were particularly impressed by the device's extended battery life, which easily lasted an entire day of golfing in GPS mode. The pre-loaded global courses added an element of convenience that we greatly appreciated.
Though its wide array of features might seem overwhelming initially, we found the device remarkably user-friendly after a brief adjustment period.
Tested Features:
Built-in Virtual Caddie Golf Watch
Full-Color Mapping
Instant Stats Display
Extended Battery Life
Pre-loaded Global Courses
---
Shot Scope H4 GPS Handheld
Details & First Impressions:
The Shot Scope H4 GPS Handheld is packed with features that cater to golfers of all skill levels. Over 36,000 courses ensure you're covered wherever you play, and the following features ensure you get the most out of your game:
Shot Tracking and Hazard Distances: Get detailed information on shot tracking and hazard distances to plan your shots and avoid penalties.
Performance Tracking Tags: Includes 16 performance tracking tags with comprehensive statistics, including strokes gained.
Battery Length: The 15-hour battery lasts a full day of golfing.
Screen: The daylight-readable color screen makes viewing easy on bright days.
Dynamic Distances to the Front, Middle, and Back Green Distances: Stay updated on your play with dynamic distances to the front, middle, and back green distances.
The Shot Scope H4 GPS Handheld is a capable and feature-rich device in its price range. The Shot Scope app may have some performance issues, but its functionality and capabilities more than makeup for it. Plus, no subscriptions are required, and the app is free, making it a cost-effective GPS solution for golfers.
Pros
Extensive course database
Detailed statistical tracking
Daylight readable screen
Free app, no subscriptions
Affordable price point
Cons
Performance & Overall Experience:
The Shot Scope H4 GPS Handheld proved reliable on the golf course, with impressive accuracy for distance readings and hazard information.
The extensive course database provided insights into golf courses worldwide.
The daylight-readable screen presented clear visuals even in sunny conditions.
The app's slow performance was minor but didn't hinder overall functioning.
The standout feature was the comprehensive performance tracking for in-depth gameplay analysis.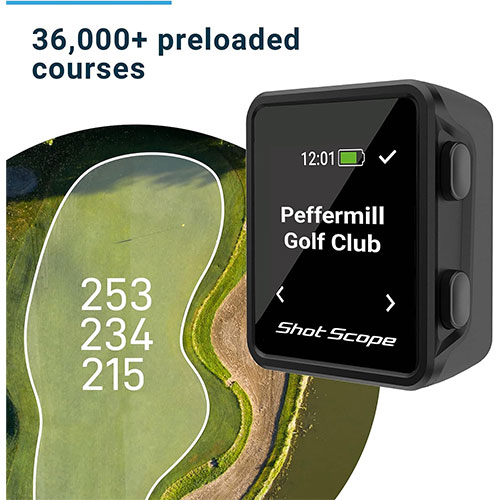 Overall, the Shot Scope H4 GPS Handheld offers a cost-effective, feature-rich solution to enhance your game.
Tested Features:
Pre-loaded Course Database
Daylight Readable Screen
Performance Tracking Tags
Front/Middle/Back Distances
Hazard Information Accuracy
Smartphone App Speed
---
Tips to Get More Out of Your Golf Game With a Golf GPS Device
To get the most out of your GPS handheld unit and take your golfing game to the next level, here are some tips to consider:
Maximize the Use of Hazard Information: Many Golf GPS units provide detailed information about various hazards in the course. Use this information strategically to plan your shots and avoid these areas.
Leverage the Pre-loaded Courses: Most golf GPS devices have thousands of pre-installed courses. Take advantage of this feature to familiarize yourself with new courses before you play, ensuring you know vital elements like the layout and the positions of hazards.
Utilize Stat Tracking: Many Golf GPS devices offer stat tracking features. Use this to analyze your games, identify your strong and weak points, and tailor your practice sessions accordingly.
Golf GPS Devices Require Regular Updates: Ensure your device is always updated. Regular updates ensure you have the latest course details and keep the device's performance optimal.
Practice with it: Practice often with your golf GPS unit. The more you use it, the more familiar you become with its features and functionalities, enabling you to leverage its capabilities during a real game.
Optimal Positioning: Ensure the GPS is positioned optimally while playing. Whether handheld, on a clip, or on a watch, it should be easily visible and accessible.
Conserve Battery: GPS units consume battery power. To avoid running out of power during a game, fully charge the device before playing and consider carrying a portable charger.
By incorporating these tips into your game, the best golf GPS devices can be a valuable tool that significantly improves your game.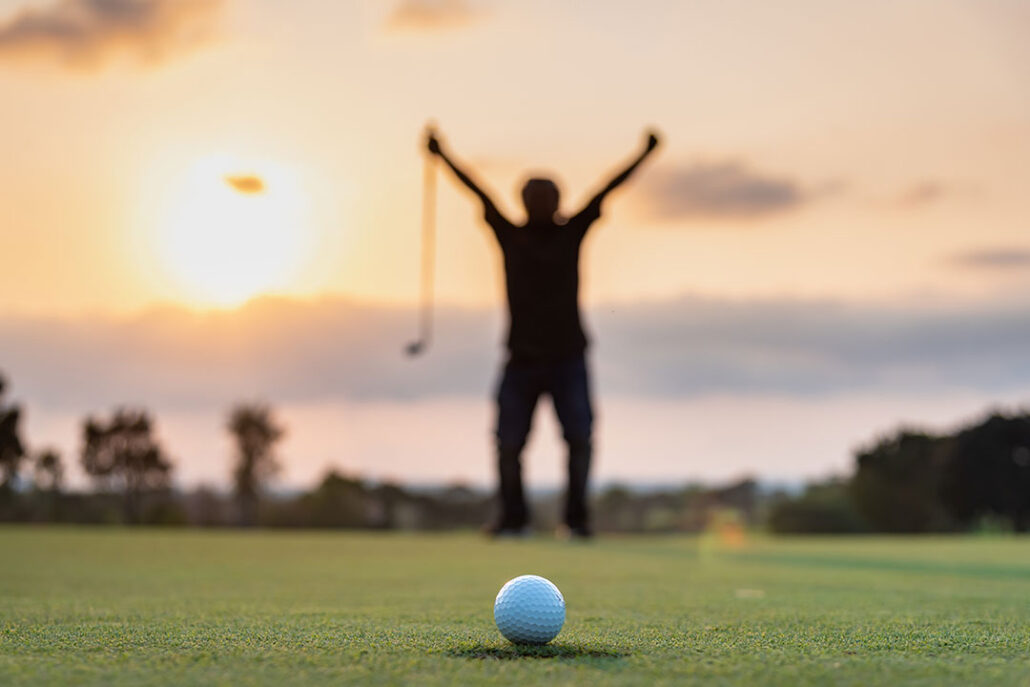 Final Thoughts on Golf GPS Devices and Handhelds
Golf GPS devices offer invaluable insights that can significantly enhance your performance on the course. With precise distance measurements, course layouts, hazard displays, and stat tracking features, these devices are a must-have tool for every golfer.
When selecting a device that aligns with your needs and using it effectively, you can elevate your golfing skills to new heights. It's important to remember that the ultimate goal is to derive enjoyment from the game, and a GPS device specifically made for golfers undoubtedly contributes to that pursuit.
Frequently Asked Questions About Golf GPS Devices
What is a good GPS for golf?
A suitable golfing GPS device should have features like pre-loaded courses, hazard displays, and stat tracking. Popular models include the Garmin Approach G80, Bushnell Wingman View Golf Speaker, and Izzo Swami 6000 Handheld Golf GPS.
Should I use a laser rangefinder or a golf GPS unit?
The type of device you should use depends on your needs and preferences. A laser rangefinder is generally better for precise yardage measurements, while GPS devices have more features like pre-loaded courses, hazard displays, and stat tracking.
Can I use my iPhone or Apple watch as a golf GPS?
Yes, you can use your iPhone or Apple watch as a golf GPS. Various apps provide features like yardage information and course layouts. However, dedicated golf GPS devices typically have more features and better performance than iPhone apps.