If you buy through affiliate links, we may earn commissions, which help support our product reviews.
Last Updated Nov 2, 2023
Navigators, adventurers, and sea lovers – lend us your ears!
Have you ever found yourself caught in the vast expanse of the ocean, yearning for a reliable handheld GPS guide to steer you back on course?
Say no more!
We're here to take you on a journey through the high seas of marine electronics with our Best Handheld Marine GPS Comparative Analysis.
From pinpoint accuracy to robust durability, we'll explore what separates the good from the truly great.
So strap in, chart a course, and join us as we navigate the digital waves to find your perfect marine companion.
Let the voyage begin!
In a rush? Here are the top 5 handheld GPS devices we cover in this article.
At a Glance: 5 Best Handheld Marine GPS Units
Why Trust Trakkit's Experts?
At Trakkit GPS, we provide our readers with accurate and reliable information regarding GPS tech. This is why we ensure that our experts possess specific vital attributes that contribute to the quality of our reviews:
Extensive Field Experience: Our experts have amassed years of experience in the field, making them well-versed in understanding the intricacies and nuances of handheld GPS technology, including the best GPS trackers, marine GPS chartplotters, and saltwater fishfinders.
In-depth Product Knowledge: Our expert reviewers boast an intimate understanding of various tech products, allowing them to analyze each in detail and make experience-based recommendations.
Rigorous Testing Process: Every product we review undergoes stringent testing to guarantee its performance, durability, and reliability.
Unbiased Reviews: The reviews we publish are completely unbiased. Our objective is to provide honest evaluations that our readers can trust.
Customer Feedback: We also consider customer feedback and experiences while reviewing products, giving us a well-rounded view of each product's performance.
Commitment to Quality: Above all, we are committed to maintaining the highest quality standards. We strive to provide reviews that are helpful, comprehensive, and trustworthy, aiding our readers in making informed purchasing decisions.
Keeping these principles in mind, let's now delve into the fundamentals of the best marine GPS handhelds, followed by a comprehensive analysis of the top five options available.

Understanding Handheld GPS Units for Marine Activities
Marine GPS handheld devices are compact and portable devices designed to help users navigate through water bodies using precise satellite signals. These devices function by receiving signals from a network of satellites, allowing for the delivery of accurate and up-to-date location information. (Read more about how GPS Works)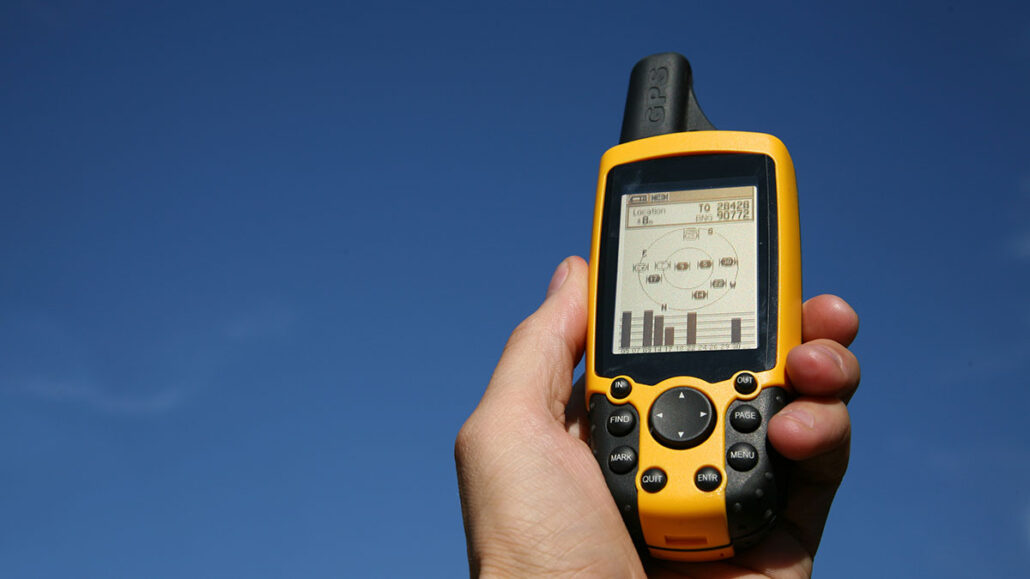 In addition to providing location information, marine GPS handheld units offer other essential features for marine enthusiasts. Some of these include:
Electronic Chart Plotting: This feature allows users to view detailed electronic charts, providing a visual representation of their current location and surroundings. This is especially useful for navigating through unfamiliar waters.
Waypoint Marking: Users can mark specific locations and set them as waypoints, making it easier to navigate back to those spots in the future.
Track Recording: This feature allows users to record their travel routes, making it easier to retrace their steps if needed.
Weather Updates: Many marine GPS handheld units come equipped with weather forecasting capabilities, providing users with real-time updates on weather conditions and potential hazards.
Given these features, a portable marine GPS is an invaluable tool for boating or fishing excursions. Moreover, advancements in wearable technology mean there are now GPS watches with map displays that offer chart plotting capabilities. Read our review of the Garmin quatix 7x Solar Below.
Limitations of Handheld Marine GPS Units
While many handheld GPS units offer a wide range of features and benefits, they do have some limitations. These include:
Screen Size: Due to their compact size, the screens on portable marine GPS units tend to be smaller. This can make it challenging to view detailed maps or charts.
Battery Life: This is another concern, as the compact size of these units means they have smaller batteries. Heavy usage or extended trips may require extra batteries or a power source.
Accuracy: While portable marine GPS devices are generally accurate, their precision can be affected by atmospheric conditions, satellite visibility, and obstructions.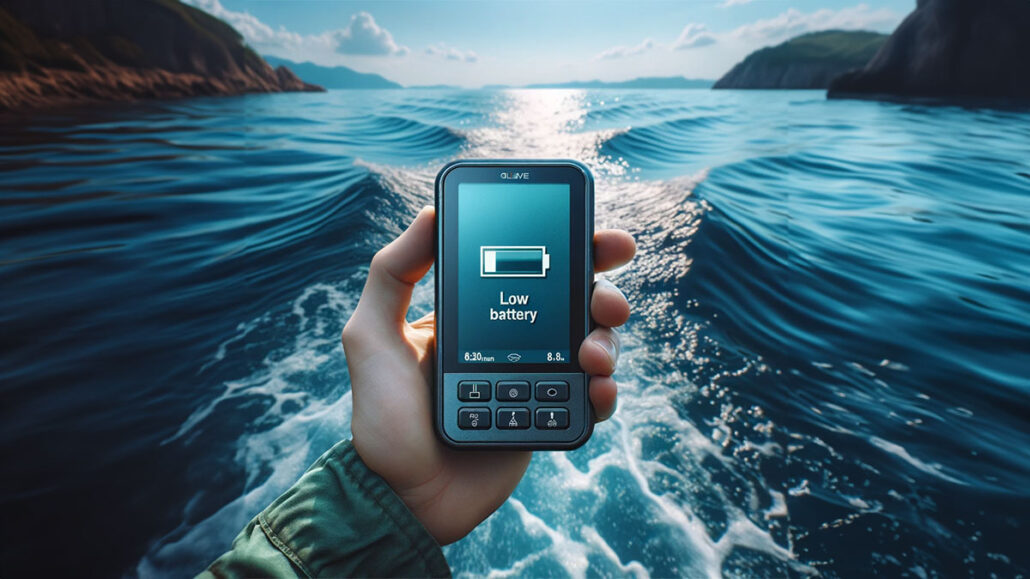 Despite these limitations, handheld marine GPS units remain an essential tool for any water-based activity.
Now, let's see what you should look for before buying.
Key Features to Look for in a Handheld Marine GPS Unit
When choosing a handheld marine GPS unit, especially from Garmin devices, there are several key features to consider. These include:
Durability and Waterproofing
When navigating marine environments, your GPS unit will inevitably be exposed to harsh conditions, such as saltwater and physical shocks. As such, durability becomes a critical factor in ensuring the longevity of your device.
Furthermore, given that water-based activities inherently involve the risk of getting wet, your marine GPS handheld must be waterproof. This not only protects the device from potential water damage but also guarantees consistent performance, regardless of weather conditions or accidental drops in the water.
Accuracy and Signal Strength
The primary function of a GPS unit is to provide accurate location data. As such, it's essential to look for units with high accuracy ratings. Additionally, the signal strength of your device is crucial, as this affects its ability to receive satellite signals in real-time. A digital compass integrated into the GPS can further enhance navigational accuracy.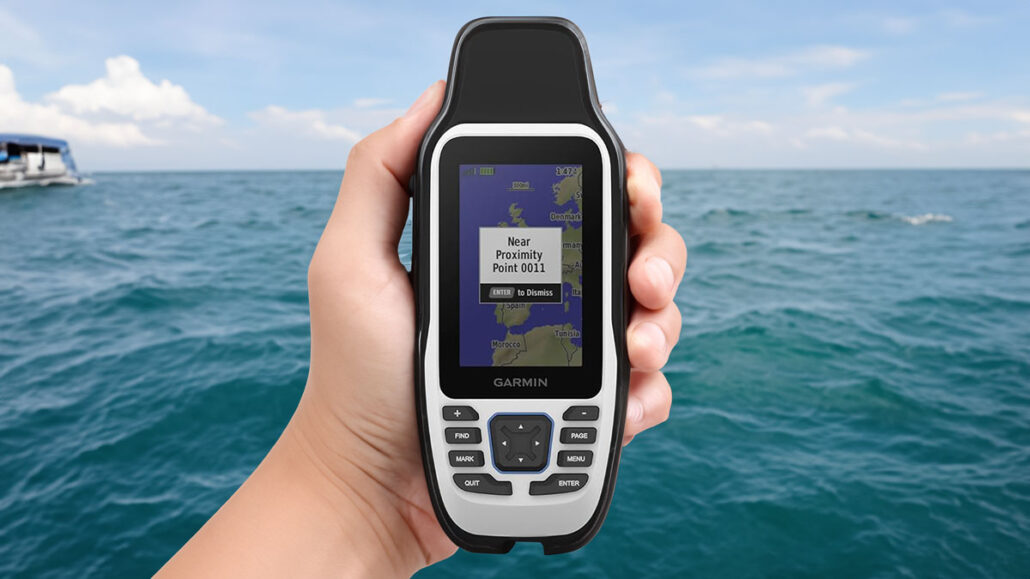 High Sensitivity GPS Receiver
A high-sensitivity GPS receiver is a crucial feature when choosing a handheld GPS unit. This type of receiver is designed to pick up GPS signals more efficiently and effectively, even in challenging environments such as vast bodies of water like the ocean, where signal obstruction is minimal.
Battery Life and Power Options
Battery life is a crucial consideration for handheld GPS devices, especially when you are out in the water for extended periods. Units with longer lasting batteries ensure continuous operation and reduce the need for frequent recharging or battery replacement. Some GPS units even come with a USB port to facilitate versatile charging.
Power options are another factor to consider; some units can be charged through a standard USB port, AC power, DC power, or even solar power. A unit with multiple power options provides added flexibility, particularly in situations where one power source may not be available.
Additionally, a USB port for charging and data transfer can be vital,
Map and Chart Compatibility
Having the ability to view maps and charts on your GPS unit is vital, particularly when navigating unfamiliar waters. It's essential to ensure compatibility with electronic marine charts or maps from reputable brands like Navionics or C-MAP. Some advanced units also have a worldwide basemap for broader navigational contexts.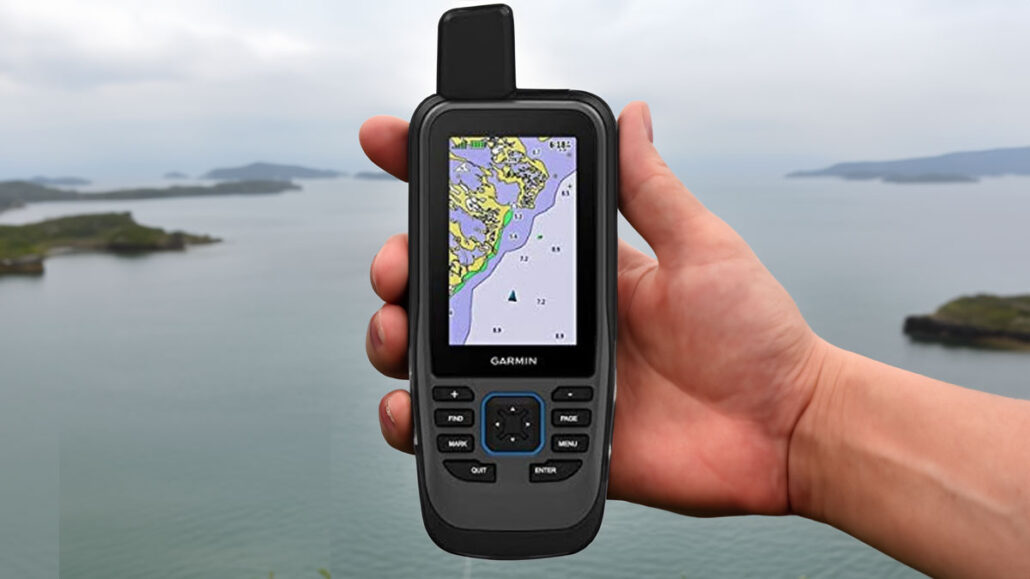 For a comprehensive guide on the top Marine GPS chartplotters, check out our post here.
Ease of Use and Readability
When selecting a handheld GPS unit, it's essential to consider its ease of use and readability. The unit should have a user-friendly interface, touchscreen control, and convenient access to frequently used features. Moreover, it should provide smart notifications, linking to cell phones for seamless connectivity on the go.
Additionally, it is paramount that the display possesses optimal clarity and effortless legibility, regardless of whether it is subjected to intense sunlight or dimly lit environments. Consider devices with backlit or LED screens for better visibility. These factors will ensure that you can operate the device successfully and access vital information promptly when on the water.
For an added layer of safety during your marine activities, consider equipping yourself with one of the best personal locator beacons fitted with a barometric altimeter.
Top 5 Garmin Handheld GPS Units for Marine Activities
Garmin GPSMAP 79s Handheld Marine GPS/Chartplotter
Features & First Impressions:
The Garmin 79s sets a high standard for marine GPS devices with its robust features and user-friendly design. The device boasts a display resolution of 240 x 400, providing a clear and crisp view of the built-in worldwide base map.
One of the signature features is its floatable design, a reassuring asset if it inadvertently goes overboard. Furthermore, the GPSMAP 79s provides precise tracking by harnessing the power of multiple satellite constellations such as GPS, GLONASS, Beidou, Galileo, QZSS, and SBAS. This ensures dependable global navigation capabilities, delivering accuracy and reliability.
Remarkably, this device can store and monitor an impressive number of data points. It can handle up to 10,000 waypoints, 250 routes, and 300 fit activities, showcasing its extraordinary memory capacity.
Lastly, its built-in 3-axis tilt-compensated electronic compass and barometric altimeter are particularly beneficial for informing heading and tracking changes in pressure.
On first impressions, the Garmin 79s is a reliable and incredibly versatile tool for marine activities, merging innovative technology with practical design.
Pros
Floatable design
Accurate tracking
Extensive memory capacity
Built-in compass and barometer altimeter
Clear, high-resolution display
Cons
Unhelpful and vague manual
Performance & Overall Experience:
In terms of performance, the GPSMAP 79s is an invaluable companion for any marine adventure. The device offers consistent and accurate tracking, ensuring you're always aware of your location, even in the most challenging conditions.
The device's high-resolution display remained clear and legible even under direct sunlight, and its sturdy construction handled the occasional bump without any issues. The interface boasts an intuitive design, facilitating effortless navigation through its array of features and settings. Moreover, the device's floatable design added a layer of confidence during our water-based activities.
On the flip side, the accompanying manual could be more detailed to make the most out of the device's extensive features.
Overall, our experience with the GPSMAP 79s was largely positive, affirming its status as a reliable and versatile tool for portable marine navigation.
Tested Features:
Floatable Design
High-resolution Display
Accurate Tracking
Extensive Memory Capacity
Chart Plotting
Product Details:
| | |
| --- | --- |
| Brand: | Garmin |
| Model Name: | GPSMAP 79s |
| Model Number: | 010-02635-00 |
| Product Dimensions: | 2.67 x 6.85 x 1.67 inches |
---
Garmin GPSMAP 86SC, Floating Handheld GPS
Features & First Impressions:
The Garmin GPSMAP 86SC brings to the table a suite of impressive features. The floating design ensures the unit stays afloat, reducing the chances of losing it during marine activities. Its sunlight-readable 3-inch display offers clear, detail-rich visuals, enhancing usability even under bright conditions.
The preloaded BlueChart G3 coastal charts merge the best of Garmin and Navionics data, providing comprehensive, accurate navigation information. Furthermore, the device's ability to stream boat data from compatible chartplotters consolidates marine system information for a more effective maritime experience.
On first impressions, the device exudes a sense of reliability with its robust construction and intuitive button operation, promising to deliver a seamless user experience.
Pros
Water-resistant, floating design
Sunlight-visible 3″ display
Preloaded BlueChart G3 charts
Streams data from chartplotters
Convenient autopilot remote control function
Cons
Poorly written product manual
Performance & Overall Experience:
In terms of performance, the GPSMAP 86SC stands tall in delivering accurate, real-time location data, even in challenging marine conditions. Its high-sensitivity receiver ensures strong signal reception, contributing to overall navigational reliability.
With its internal, rechargeable lithium battery, this device delivers an impressive operational time of up to 50 hours. This ample power ensures you'll have more than enough juice for extended outings on the water.
The device's capacity to stream data from compatible chartplotters proved invaluable, providing a consolidated view of our marine system information.
Overall, our experience with using the GPSMAP 86SC was highly satisfactory. Its robust construction, intuitive operation, and various features make it a reliable companion for marine activity.
Tested Features:
Garmin Auto Pilot Remote Function
Chart Plotter Data Streaming
BlueChart G3 Maps Usage
Battery Endurance
Product Details:
| | |
| --- | --- |
| Brand: | Garmin |
| Model Name: | GPSMAP 86sc |
| Model Number: | 010-02235-02 |
| Product Dimensions: | 1.7 x 2.65 x 7 inches |
---
Garmin GPSMAP 86i, Floating Handheld GPS
Features & First Impressions:
The Garmin GPSMAP 86i is a device engineered for superior performance, boasting several impressive features that make it stand out in the competitive market of handheld GPS units for maritime use.
Arguably, the most significant of these is its InReach capability, which allows for two-way text messaging and sharing of location through GPS tracking. This functionality is made possible via subscription-based access to the 100% global Iridium satellite network, ensuring constant communication even in the most remote locations.
Unfortunately, its counterpart, the GPSMAP 86sc, lacks this crucial feature, though it compensates with preloaded BlueChart G3 maps.
Our first impressions of the GPSMAP 86i are decidedly positive. Its InReach capabilities offer a level of safety and communication unparalleled by many competitors. Although it carries a higher price, the tranquility and connectivity it provides in remote marine settings, make it a worthwhile investment.
Pros
Solid satellite communication
Two-way text messaging (Interactive SOS)
Accurate GPS tracking
Remote autopilot control
Durable and waterproof
Cons
Charts require updating pre-use
Performance & Overall Experience:
In terms of performance, the GPSMAP 86i stood up to every test we threw at it. Its pinpoint GPS accuracy, reliable satellite communication, and seamless autopilot remote control proved invaluable during our navigation exercises.
The device maintained an unwavering signal, even in remote marine environments, ensuring constant access to vital location and communication data. The two-way text messaging feature was easy to operate and worked flawlessly, offering a lifeline to the outside world when needed.
Battery longevity was impressive, efficiently sustaining us on longer ventures without frequent recharging.
Overall, our experience with the GPSMAP 86i was highly positive, affirming it as a robust and reliable tool for marine navigation. Its comprehensive feature set and superior performance make it an investment worth considering for any maritime enthusiast.
Tested Features:
Satellite Communication Reliability
Two-Way Text Messaging
GPS Tracking Accuracy
Garmin Autopilot Remote Control
Chart Update Process
Product Details:
| | |
| --- | --- |
| Brand: | Garmin |
| Model Name: | GPSMAP 86i |
| Model Number: | 010-02236-00 |
| Product Dimensions: | 8.74 x 6.06 x 3.66 inches |
---
Garmin eTrex 32x Rugged Handheld GPS Navigator
Features & First Impressions:
The Garmin eTrex 32x Rugged Handheld GPS Navigator initially impresses with its compact dimensions and lightweight design, making it easily portable for all your marine adventures. Not specifically designed for marine use, it nonetheless does an admirable job of covering all inland waterways with preloaded Topo Active maps for on-point navigation.
Despite its 2.2-inch size, the screen provides a respectable resolution of 240 x 320 pixels, resulting in clear and easily readable map visuals. A standout feature is the support for both GPS and GLONASS satellite systems, increasing the accuracy and reliability of the device. It also boasts an 8GB internal memory, expandable via a micro SD card slot, for extensive map downloads.
However, its lack of floating capability and water resistance, not waterproofing, are notable limitations for boaters. Its power options are limited to 2 AA batteries, promising a commendable 25 hours on the battery.
In essence, the Garmin eTrex 32x offers a basic yet solid package for those seeking to navigate inland waterways.
Pros
Compact and lightweight design
Preloaded with Topo Active maps
Supports GPS and GLONASS satellites
8GB internal memory, expandable
Long-lasting battery (25 hours)
Cons
Does not float
Only water-resistant, not waterproof
No detailed marine charts
Performance & Overall Experience:
In terms of performance, the Garmin eTrex 32x is a reliable companion for marine navigation at the most basic level. The high-sensitivity receiver picks up signals quickly and maintains a consistent connection, providing accurate location data during our inland waterway activities.
While the unit lacks detailed marine charts, the preloaded Topo Active maps proved sufficient for our needs, offering helpful information and landmarks. The lack of waterproofing was a drawback; however, the unit withstood light splashes, and careful handling prevented severe water damage.
Overall, despite some limitations, the Garmin eTrex 32x offers a cost-effective solution for navigational needs on inland and coastal waterways.
Tested Features:
GPS and GLONASS Reception
Map Download Capacity
Battery Longevity
Water-Resistance Level
Product Details:
| | |
| --- | --- |
| Brand: | Garmin |
| Model Name: | eTrex 32x |
| Model Number: | 010-02257-00 |
| Product Dimensions: | 4 x 2.1 x 1.3 inches |
---
Garmin quatix 7X Solar Watch with GPS/Chartplotter
Features & First Impressions:
The Garmin quatix 7X Solar Watch is a marvel of modern technology, combining the convenience of a wearable with the robust features of a marine GPS unit. It boasts an impressive solar charging feature, eliminating the worry of recharging your battery during extended trips.
This watch is remarkably sturdy and built to withstand even the harshest marine environments. With a water resistance rating of up to 100 meters and a robust, durable design, it truly lives up to its reputation as the best solar GPS watch for boating.
Our first impression is that this watch is designed with the mariner in mind. Not only does it provide accurate GPS location and navigation data, but it also includes advanced features like tide changes and anchor drag alerts, making it an invaluable asset for any water-based activity.
Pros
Solar charging for extended use
Robust and durable design
Water resistance up to 100 meters
Advanced features for marine use
Accurate GPS location and navigation data
Cons
| | |
| --- | --- |
| Brand: | Garmin |
| Model Name: | quatix® 7X |
| Model Number: | 010-02541-60 |
| Product Dimensions: | 2.01 x 2.01 x 0.59 inches |

---
Conclusion
In conclusion, a handheld GPS unit for maritime activities is an invaluable tool, providing essential location data and navigational assistance. We explored the key features to look for in these devices, including durability, waterproofing, accuracy, signal strength, long battery life, map compatibility, and ease of use.
Among the market offerings, the Garmin GPSMAP 86i stands out as the best option. Its notable features, such as floating capability, data streaming, and an impressive 50-hour battery, make it the most reliable and robust choice for navigating marine environments.
---
Frequently Asked Questions About Marine GPS Handhelds
Can you use a handheld GPS on a boat?
Yes, Garmin offers various handheld GPS devices specifically designed for nautical use. These devices have features like marine-friendly design, high-sensitivity receivers for better signal reception, and detailed marine charts. Additionally, they are usually designed to be waterproof or water-resistant and have the ability to float, which makes them ideal for boating and other water-related activities.
How accurate can a handheld GPS be?
GPS devices provide accuracy based on the number of satellites they can connect with. Modern devices often achieve sub-meter accuracy due to multi-constellation availability.
Is a marine handheld GPS worth getting?
A marine GPS handheld is worth investing in, particularly for those engaged in regular or extended marine activities. These devices are invaluable if your primary means of navigation, such as a boat compass or traditional map, fails. They also provide accurate location data and can be an essential safety tool in emergencies.