If you buy through affiliate links, we may earn commissions, which help support our product reviews.
Last Updated Oct 15, 2023
The revolutionary impact of the newest, best thermal cameras cannot be overstated. These cutting-edge devices have transformed multiple sectors: military, security, wildlife observation, and home efficiency. Their significance in providing thermal images is undeniable.
These thermal imaging devices use infrared technology to make the invisible visible, thus providing invaluable data in low-light or no-light scenarios.
The year 2023 has seen remarkable advancements in this field, with features like higher resolution, improved software, and enhanced durability being introduced.
In this guide, we've compiled a list of the best thermal imaging cameras currently on the market, offering you the latest and most effective tools in thermal imaging technology.
For those interested in monitoring specific environmental conditions in their homes or offices, our article on plug-in WiFi temperature and humidity sensors offers a comprehensive guide on the latest advancements in this field.
In a rush? See a quick preview of our top picks:
6 Best Thermal Imaging Cameras: Quick Preview
Our Expertise in Thermal Imaging Technology
Here at Trakkit, we pride ourselves on our extensive experience and deep understanding of technology. We go above and beyond by rigorously testing every thermal camera we recommend.
Our team comprises experienced experts and passionate enthusiasts, employing a holistic approach that encompasses every facet of the device. This includes resolution, sensitivity, field of view, software capabilities, and durability.
Coupled with consistent monitoring of customer reviews and market trends, our in-depth analyses ensure that our recommendations are reliable, current, and tailored to meet the varying needs of our readers. Additionally, we've crafted a comprehensive guide on front and rear dashcams with night vision.
Trust Trakkit to help you make an informed purchase that gives you value for your money and meets your thermal imaging needs.
For those passionate about capturing dynamic motion in their adventures, don't miss our comprehensive guide on action camera gimbals and action camera protectors.
What is a Thermal Imaging Camera?
While the core technology behind thermal imaging remains consistent, several types of thermal cameras are available, each designed to suit different applications.
Fundamentally, all thermal cameras detect infrared radiation (heat) emitted by an object and convert it into a visible thermal image.
However, they differ from regular cameras, which capture light reflected off surfaces to create an image.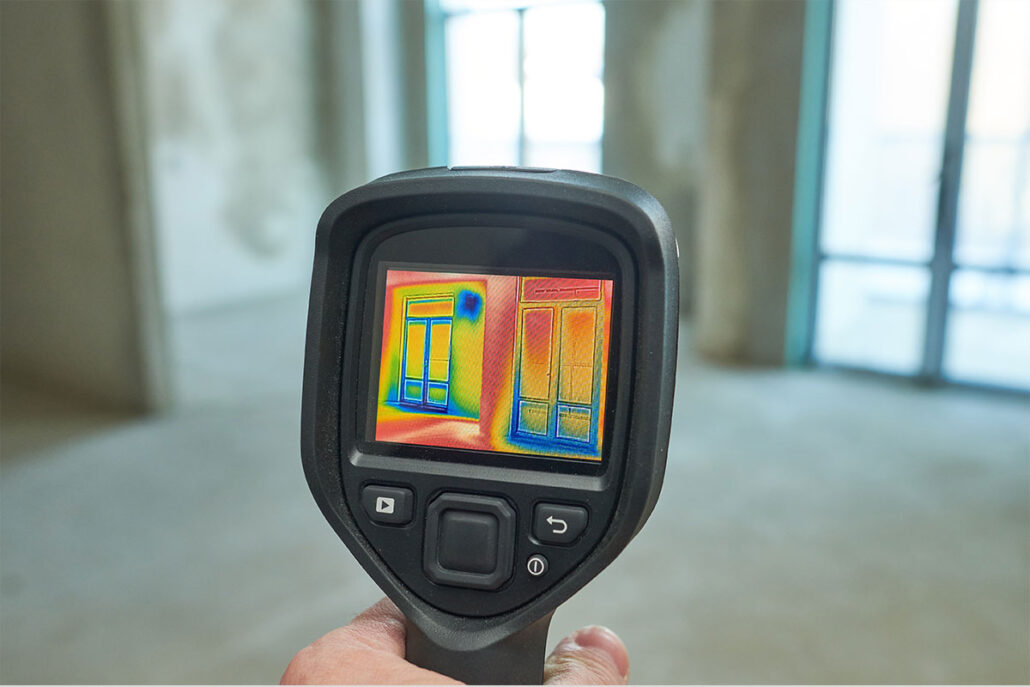 Thermographic cameras, on the other hand, are a subset of thermal cameras that capture the heat pattern and measure the temperature difference across the image, providing more detailed information.
From handheld thermal devices perfect for home inspections to mounted units used in security systems, your choice of a thermal camera will largely depend on your specific needs.
How do Thermal Cameras Work?
Thermal or infrared cameras are designed to detect the infrared radiation (IR) emitted by objects. Although this radiation cannot be seen by the naked human eye, it can be felt as heat.
All objects, when above absolute zero, emit infrared radiation. The intensity of this emitted radiation directly correlates with the temperature of the object.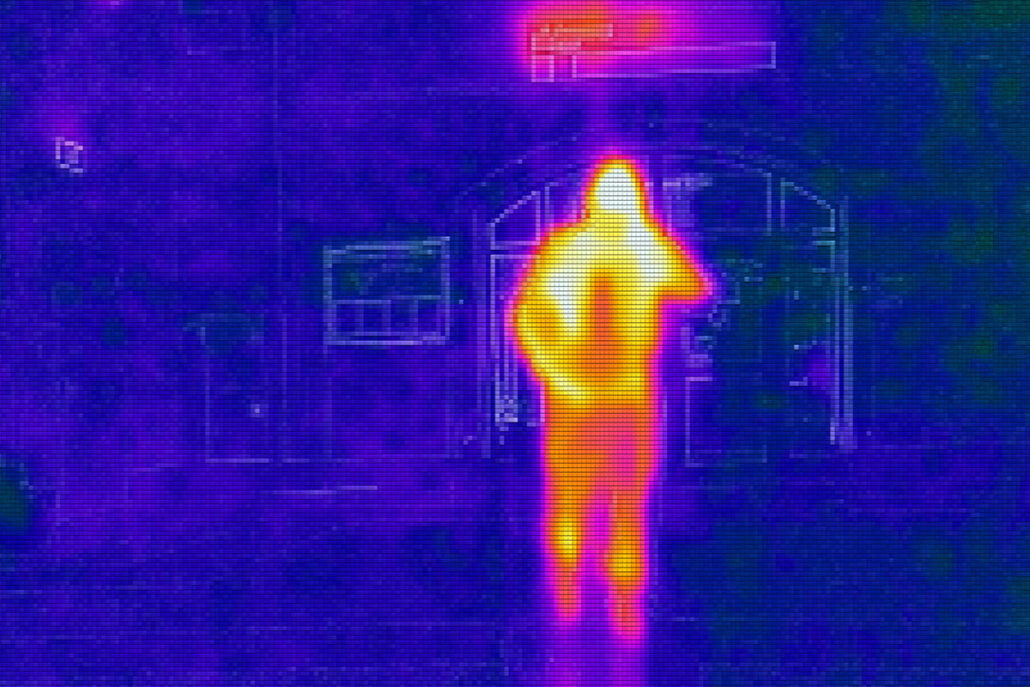 Key Features to Look for in a Thermal Camera
Resolution:
An imaging device's pixel count and clarity are crucial factors that determine the level of detail and sharpness in a captured thermal image. Higher resolution allows finer details to be captured, resulting in clearer and more precise visuals.
Sensitivity:
The sensitivity of an imaging device refers to its ability to detect even subtle temperature differences. A highly sensitive device can accurately capture and differentiate slight variations in heat signatures, enabling it to be used effectively in various applications, such as taking a thermal image for medical diagnostics.
Field of View:
An imaging device's field of view (FOV) refers to the extent of the scene that the camera can capture. A wide FOV allows a larger area to be caught in a single frame, making it suitable for surveillance and landscape photography applications. On the other hand, a narrow FOV provides a more focused and magnified view, making it ideal for detailed inspections or long-range observations.
Refresh Rate:
The refresh rate of an imaging device determines how quickly it can update and display new images. A higher refresh rate ensures smoother and more fluid real-time imaging, reducing motion blur and providing a more accurate representation of dynamic scenes. This is particularly important in sports analysis, gaming, and high-speed monitoring applications.
Battery Life:
When it comes to imaging devices used in fieldwork and situations that demand prolonged use, battery life is a crucial factor to consider. Devices with extended battery life can operate for longer durations without frequent recharging, ensuring uninterrupted operation and enhancing productivity.
Durability:
The durability of an imaging device encompasses various factors such as weatherproofing, drop resistance, and overall robustness. These features are essential for devices used in demanding environments, ensuring reliable performance even in harsh conditions or accidental drops. A durable device can withstand the rigors of fieldwork and maintain its functionality over an extended period.
Now that you have a grasp of the essential features to consider when choosing a thermal camera let's delve into our top recommendations for 2023. Our meticulous selection process took into account their performance, features, and overall value for money.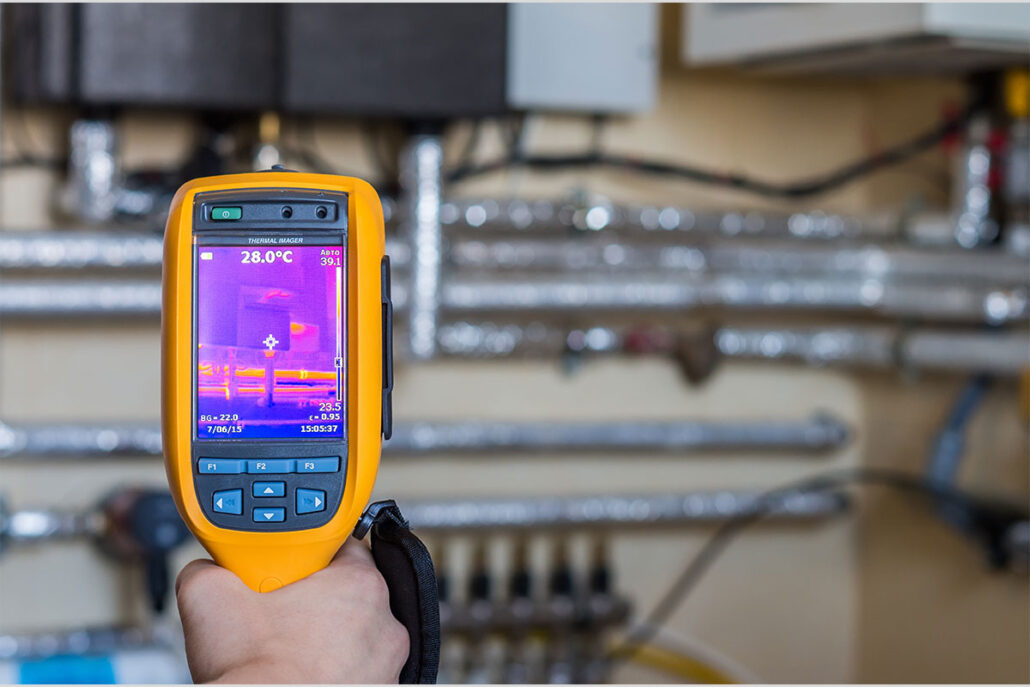 6 Best Thermal Cameras: Deep Dive
TOPDON TC004 Thermal Imaging Camera
Features & First Impressions:
The TC004 is a handheld thermal camera that boasts a high-resolution thermal camera with a resolution of 256×192, ensuring clarity in captured thermal images. Its high thermal sensitivity of 0.09 degrees Fahrenheit allows it to distinguish minute temperature differences.
The device offers three measurement modes to detect a center, hot, and cold spots, and an automatic detection feature to visualize temperature differences. With a wide temperature measurement range of -36 degrees Fahrenheit to +630 degrees Fahrenheit and an accuracy of ±3.6 degrees Fahrenheit, the TC004 promises precision in its readings.
Additionally, it comes with professional analysis software for PCs, allowing users to save and share diagnostic data. With its built-in LED light and compact, robust design, this versatile tool is perfect for all kinds of environments. Plus, it's IP54-rated, providing protection against water and dust.
Pros
High-resolution thermal camera ensuring clear thermal images.
Wide temperature measurement range with high accuracy.
Multiple measurement modes for versatile use.
Long battery life of 12 hours.
Durable design with an IP54 rating for water and dust resistance.
Easy to Use
Cons
Dimensions might be slightly bulky for some users.
Performance & Overall Experience:
The TC004 thermal camera offers a seamless experience with its high-resolution thermal camera, ensuring users don't have to deal with blurry thermal images. It's high thermal sensitivity and wide FOV makes capturing and distinguishing between tiny temperature differences easy. The device's automatic detection feature and three measurement modes enhance its usability.
With a 12-hour runtime, users can rely on the TC004 thermal camera for extended periods without worrying about battery life. The added features like PC image analysis and the built-in LED light further enhance its functionality. Its solid design ensures durability, making it suitable for various conditions.
Tested Features:
High-resolution imaging
Wide FOV
Automatic detection
PC image analysis
Built-in LED light
---
HIKMICRO B Series Handheld Thermal Imaging Camera
Features & First Impressions:
The HIKMICRO B Series Handheld Thermal Imager is powered by SuperIR technology, which provides highly detailed radiometric images. The B20 model, in particular, boasts a highly sensitive VOx detector, ensuring distinct thermal vision.
It offers multiple image modes, including:
Thermal
Fusion
PIP
Optical
The device also features quick temperature measurement with presets such as:
Center Spot
Hot Spot
Cold Spot
WiFi connectivity allows users to connect to mobile devices and share images swiftly. An innovative macro mode using a clip-on macro lens lets the camera see details as small as 500 microns. Additionally, the device comes with a high-temperature alarm and a fast image frequency of 25 Hz.
Pros
Enhanced thermal clarity with SuperIR technology.
Multiple image modes for versatile imaging.
Easy to use temperature measurement with various presets.
WiFiWiFi connectivity for easy sharing.
Innovative macro mode for detailed imaging.
Cons
Battery life of 3 hours might be limited for extended use.
Performance & Overall Experience:
The HIKMICRO B Series offers an impressive performance with its SuperIR technology, ensuring the best thermal imaging. The multiple image modes provide flexibility in capturing and viewing thermal data. The quick temperature measurement feature is handy for instant checks, and the WiFiWiFi connectivity ensures that sharing images is a breeze.
The innovative macro mode is a standout feature, allowing for detailed imaging of small components. However, the battery life might be a limitation for users who require extended usage.
Tested Features:
SuperIR image enhancement
Multiple image modes
Quick temperature measurement
WiFiWiFi connectivity
Macro mode
---
FLIR E4 Compact Thermal Imaging Camera
Features & First Impressions:
The FLIR E4 is designed to be an easy-to-use thermal imaging camera suitable for various applications, including electrical, mechanical building, and HVAC/R.
It offers a resolution of 80 × 60, ensuring a decent clarity in thermal imaging. The camera is equipped with MSX Image Enhancement, which combines details from the onboard visible light camera with the infrared image, providing a comprehensive thermal picture. This feature allows users to recognize where the problematic heat pattern is instantly.
The camera also boasts WiFiWiFi connectivity, facilitating the uploading and sharing of images and data through the FLIR Tools mobile app. The camera's design emphasizes simplicity with an always-in-focus lens and one-button image capture.
Pros
MSX Enhancement for detailed thermal imaging.
WiFi connectivity for easy sharing and uploading.
Easy to use, user-friendly design.
Durable with a 2 m (6.6 ft) drop test and IP54 rating.
Professional features at an affordable price.
Cons
Limited resolution compared to higher-end models.
Performance & Overall Experience:
The FLIR E4 offers a balance between professional features and affordability. The MSX Enhancement is impressive, providing users with a clear and detailed thermal image.
The WiFi connectivity is a convenient feature, allowing for swift data sharing and analysis. Its user-friendly design ensures that even those new to thermal imaging can easily use the camera.
The rugged design, with its drop test rating and IP54 certification, ensures durability and reliability in various conditions.
The FLIR E4 is the best thermal camera option for those seeking an affordable, user-friendly thermal imaging camera for basic applications.
Tested Features:
MSX Image Enhancement
WiFiWiFi connectivity
Always-in-focus lens
One-button image capture
Rugged design
---
NOYAFA Industrial Thermal Imaging Device
Features & First Impressions:
The NOYAFA NF-521 is one of the best thermal imaging cameras designed for industrial and scientific applications. It offers a resolution of 32×32, ensuring clarity in thermal imaging.
The device has a visible light camera of 2 megapixels, enhancing its imaging capabilities. For versatile imaging, it provides multiple color palettes, including Ironbow, Iridescence, and Grayscale.
Thermal imaging cameras like this one are user-friendly with a 2.4″ TFT LCD. Additionally, it comes with an 8GB TF card for storage and is drop-proof up to 2 meters, ensuring durability in various conditions.
Pros
Versatile color palettes for detailed thermal imaging.
Visible light camera integration for enhanced imaging.
User-friendly with a clear TFT LCD.
Durable with a 2m drop-proof rating.
Comes with an 8GB TF card for ample storage.
Cons
The resolution might be limited compared to higher-end models.
Performance & Overall Experience:
The NOYAFA NF-521 offers a balance between functionality and user-friendliness. Its thermal imaging capabilities and the visible light camera ensure detailed and precise imaging.
The multiple color palettes provide flexibility in capturing and viewing thermal data. Its user-friendly design, with the TFT LCD, ensures a seamless experience for users. The added durability with its drop-proof rating makes it suitable for various industrial conditions.
Overall, the NOYAFA NF-521 is a reliable and affordable option for those needing a thermal imaging device for industrial-like results.
Tested Features:
Visible light camera integration
Multiple color palettes
User-friendly TFT LCD
8GB TF card included
Drop-proof rating of 2m.
---
FLIR One Pro LT: One of the Best Thermal Cameras for Smartphones
Features & First Impressions:
The FLIR ONE Pro LT is a pro-grade smartphone thermal camera designed to detect hidden problems swiftly. The enhanced resolution of FLIR VividIR and the added perspective of FLIR MSX provides a comprehensive thermal picture.
The OneFit adjustable connector ensures compatibility with various mobile devices, even with protective cases. The camera has a hard-working app that offers features like multiple spot meters, level/span controls, and reporting through the FLIR Tools Mobile App.
The device promises to work as hard as professionals, making it a reliable tool for various thermal imaging needs.
Pros
VividIR Image Processing for enhanced thermal clarity.
FLIR MSX technology for detailed thermal imaging.
OneFit Adjustable Connector for compatibility with various devices.
Comprehensive mobile app with professional features.
Durable with a 1.5m drop-proof rating.
Cons
Limited Battery life of approximately 1 hour.
Performance & Overall Experience:
The FLIR ONE Pro LT stands out with its VividIR image enhancer and MSX technology, ensuring users get a clear and detailed thermal image. The OneFit adjustable connector adds versatility, making it compatible with various mobile devices.
The comprehensive app enhances its functionality, offering professional features for detailed analysis and reporting. The device's design and features emphasize user-friendliness, durability, and precision, making it a valuable tool for professionals and DIY enthusiasts.
Overall, the FLIR ONE Pro LT is the best thermal imaging camera for smartphones and offers a reliable and versatile option for those needing a smartphone thermal camera.
Tested Features:
VividIR Image Processing
FLIR MSX technology
OneFit Adjustable Connector
Comprehensive mobile app
1.5m drop-proof rating
---
FLIR C3-X Compact Thermal Imaging Camera
Features & First Impressions:
The FLIR C3-X thermal camera is designed to make inspections for hidden problems, document repairs, and share evidence with customers more accessible than ever.
The C3-X is a versatile handheld thermal inspection tool that combines a 128 × 96 pixel thermal sensor with MSX (Multi-Spectral Dynamic Imaging), a high-resolution 5-megapixel visual camera, and an LED flashlight.
The versatility of this powerful combination makes it an optimal choice for various applications, such as electrical/mechanical, building, and maintenance. With its compact design and advanced features, it guarantees consistent and precise results without fail.
With the C3-X thermal camera, users can effortlessly upload and store images directly to the FLIR Ignite cloud. Seamlessly organize and back up your files, while enjoying the convenience of instantly sharing pictures or effortlessly creating professional reports through either a mobile device or computer.
Pros
MSX and 128 × 96 accurate thermal imaging for detailed insights.
Directly upload images using FLIR Ignite cloud connectivity.
Rugged design with IP54 rating for protection against water and dust.
Designed to withstand a 2 m drop.
Professional reports that help businesses understand and address problems.
Cons
Performance & Overall Experience:
The FLIR C3-X thermal camera stands out with its MSX technology and accurate thermal imaging, ensuring users get a clear and detailed thermal image. The device's design and features emphasize user-friendliness, durability, and precision.
The FLIR Ignite cloud connectivity enhances functionality, offering organized storage and easy sharing options. This handheld thermal device's rugged design, with an IP54 rating and 2m drop-proof capability, makes it a reliable tool for various thermal imaging needs.
The FLIR C3-X is a comprehensive and convenient option for those wanting the best thermal camera for residential use.
Tested Features:
MSX (Multi-Spectral Dynamic Imaging)
5-megapixel visual camera
LED flashlight
FLIR Ignite™ cloud connectivity
Professional reporting features
---
Applications of Thermal Imaging Cameras
Building Inspection: Thermal imaging cameras are invaluable for building inspection, as they can detect heat loss, moisture, and insulation gaps. By identifying these issues early on, property owners can take necessary steps to improve energy efficiency and prevent further damage.
Medical Imaging: In medical imaging, thermal cameras play a crucial role in observing blood flow and inflammation in patients. This non-invasive technique allows healthcare professionals to identify areas of concern and provide targeted treatment.
Military and Security: Thermal cameras have revolutionized military and security operations by providing advanced night vision capabilities. These cameras enable personnel to conduct surveillance in low-light conditions, detect potential threats, and enhance situational awareness.
Industrial Inspection: Thermal cameras are widely used to detect overheating components or machinery in industrial settings. By pinpointing areas of excessive heat, maintenance teams can prevent equipment failures, optimize performance, and ensure worker safety.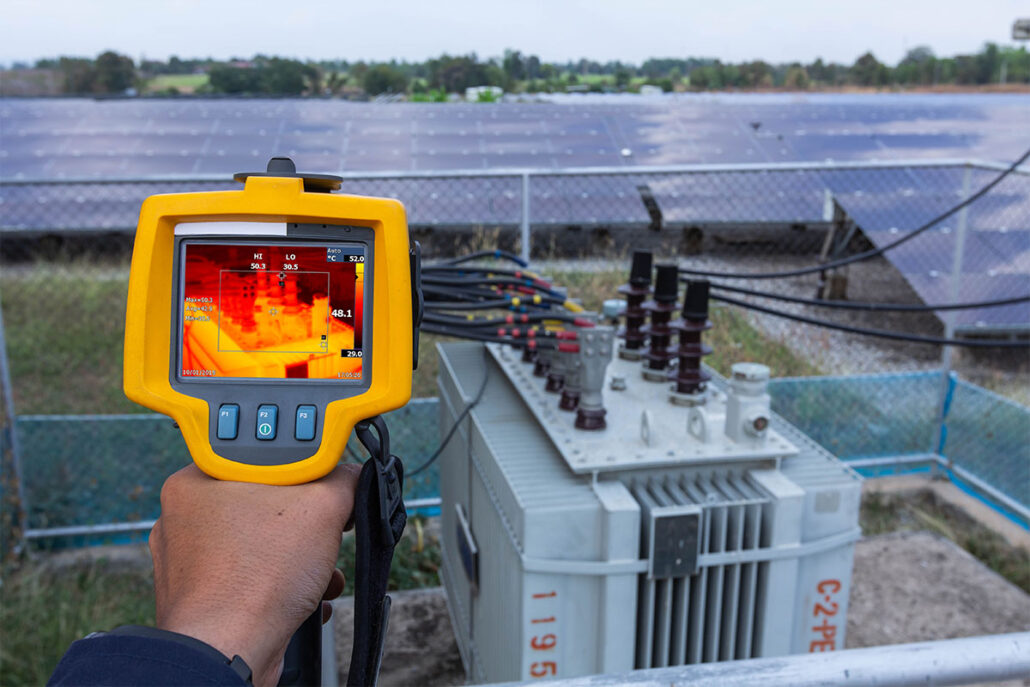 Firefighting: When it comes to firefighting, thermal cameras are invaluable tools for identifying hotspots in fires or locating people in smoke-filled environments. Firefighters can use these cameras to navigate hazardous conditions, make informed decisions, and save lives.
Wildlife Observation: Thermal cameras are also employed in wildlife observation, allowing researchers and enthusiasts to observe animals at night or in dense foliage. This technology provides valuable insights into the behavior and movements of nocturnal creatures, contributing to conservation efforts and ecological studies.
Thermal cameras have various applications across various industries, offering invaluable insights and enhancing safety and efficiency in numerous fields.
Price Range and Considerations
When shopping for a thermal imaging camera, price categories typically fall into three tiers: budget, mid-range, and premium.
Budget thermal imaging camera options: Budget thermal cameras, often under $500, provide basic thermal imaging capabilities suitable for simple tasks or hobbyists.
Mid-range thermal cameras: These are usually priced between $500 and $2,000 and offer better resolution and additional features such as connectivity options, visual cameras, and image enhancement technologies.
Premium models: These are priced over $2,000 and provide the highest resolution images, advanced imaging features, and high durability, catering to professionals and industries with specific, high-demand needs.
Factors that can affect the price include:
The brand reputation.
The array of features offered.
The device's construction and durability.
The resolution of the thermal sensor.
Additional services like cloud storage or professional reporting features.
It's essential to carefully consider your specific requirements and budget before purchasing.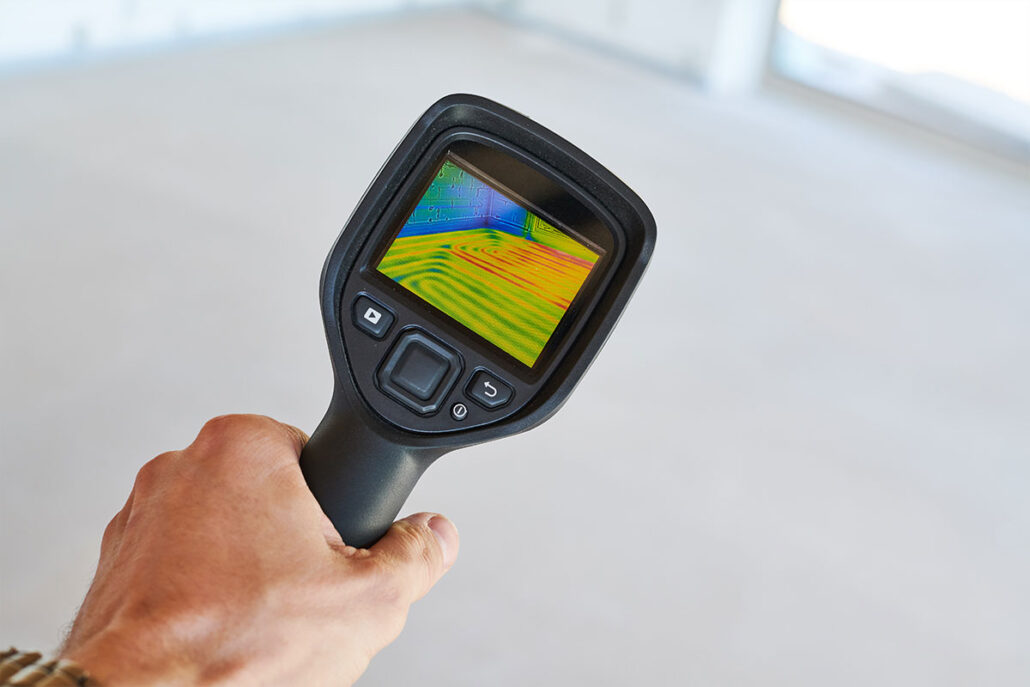 Tips for Maintaining Your Thermal Camera
Proper maintenance of your thermal camera can extend its lifespan and ensure optimal performance.
Keep your device clean; gently wipe the lens and body with a soft cloth to remove dust or smudges.
It is recommended that you refrain from using harsh chemicals or abrasive materials that may potentially cause scratches on the lens or harm the body.
Use a protective case for storage to protect your thermal camera from dust, moisture, and physical damage.
Ensure the battery is removed if the camera is not used for an extended period.
Speaking of batteries, they require special care; recharging should be done according to the manufacturer's instructions, and batteries should be replaced as soon as they start losing their charging capacity.
Keep your camera's software up-to-date to benefit from the latest features and improvements.
Regular calibration is also vital to guarantee the accuracy of the thermal readings; consider having your camera professionally calibrated at least once a year or as the manufacturer recommends.
Final Thoughts
In conclusion, selecting the correct thermal imaging camera for your needs is paramount to obtaining reliable and accurate results.
These devices, offering various applications across numerous industries, enhance safety and efficiency and provide invaluable insights. However, when purchasing, individuals and organizations must consider their particular requirements, applications, and budgetary constraints.
Remember, the best thermal camera isn't necessarily the most expensive one but the one that fits your needs and budget most appropriately. Embrace the power of thermal imaging and unlock a new world of possibilities.
Frequently Asked Questions (FAQs)
What is the difference between a thermal camera and a regular camera?
A regular camera captures images based on light visible to the human eye. In contrast, a thermal camera detects heat and translates it into an image visual to us. The different colors in a thermal camera image represent different temperatures, allowing users to identify heat sources.
How does a thermal camera work?
A thermal camera works by detecting the heat energy emitted by objects and converting it into a visual image. This type of thermal camera uses an infrared detector array to capture different levels of infrared light in its FOV. The data is then processed and displayed as a thermal camera image.
Why is the resolution of a thermal camera important?
The resolution of a thermal camera determines the level of detail it can capture. Higher resolution means more pixels, translating into clearer images with more defined shapes and outlines. This can be critical in applications where the difference in temperature between areas is minimal or when precision is required.
References: