Last Updated: May 10, 2022
If you're looking for the cheapest IoT data plans for cell phones look no further.
IoT means Internet of Things, and it usually refers to devices that use the internet to transfer tiny bits of data in a way that is automated and doesn't involve a person. People using a phone, for example, will usually eat up a small data plan quickly.
So we will discuss the cheapest plans for cell phones, iPhones and Android, that are even better than dedicated, non-cell phone data plans offered by IoT companies.
Typically, companies that sell IoT data plans do so for small IoT devices and are not offered for cell phones.
However, the following companies offer dirt-cheap data plans for cell phones and even allow you to add minutes and text to your plan, if desired.
I will list these in order of my favorite, but they each have their advantages.
Tello – King of the IoT Cheapest Data Plan
Tello minimum plan offers 500MB for $5 (A beautiful thing!)
You can add 100 minutes of talk and unlimited text for $1 extra. The best part is there are no overage fees once you use the 4G/5G data, it throttles to unlimited 2G, which is GREAT for IoT!
Sending small amounts of data is fine whether it's 2G or 5G.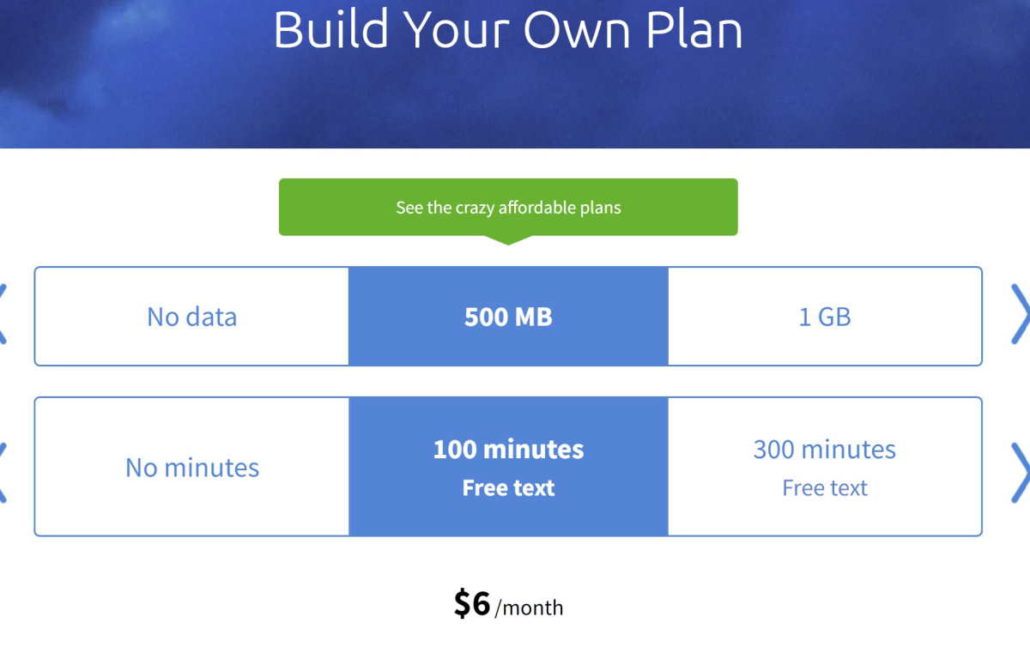 Tello uses the T-Mobile network.
If you're interested, check them out here, Tello $5 Plan
I have a cell phone as a GPS tracker installed in my car and I used the $5 Tello plan. I had an old android phone laying around.
HelloMobile – Best Unlimited Talk & Text for $5 Flat
HelloMobile also has a 500MB for $5 plan, but with Unlimited Talk & Text!
However, once you use the data for that month it gets cut off, no throttling.
The $5 monthly fee includes taxes and fees, no extra costs.
They also use T-Mobile's network.
USMobile – Smallest Data Plans
USMobile has a build your plan that allows you to start at 50MB. You can get a 100MB plan for $4. It is $2, but they add a $2 network fee.
Also, they stop the data once you reach your limit.
They use the TMobile network and Verizon, so you will get 2 SIM cards when you get their SIM kit you can try either one in your phone. If you had a phone with Verizon, this should work.
Which Phones support these Data Plans?
Most of these plans use T-Mobile's network, so if your phone is compatible with one it should work on the others, and if you decide to use an old phone or buy a used phone, keep the following points in mind:
Make sure the phone is Unlocked.
You can check with your current carrier to see if they can unlock it, so it can join another network provider.
If you decide to get a used/refurbished phone, I like these sites: backmarket.com & swappa.com.
Check that your phone is compatible by entering the IMEI # on the website of the plan you're interested in.
You will want a phone that supports the following bands: LTE bands: 2, 4, 12, 66, and 71.
The 66 and 71 bands will give your phone better coverage. Band 71 is a bonus since it uses the 600 MHz frequency which will give your IoT/phone the best coverage and penetration through buildings and rural areas.
Here is a list of phones that support T-Mobile's Band 71
If you live in a rural area or need tracking inside buildings, etc, Band 71 could help. Otherwise, most standard cell phones should work fine.
Here is a discount coupon for Phones on Tello's site.
Conclusion
We will be updating this list constantly to find the best and cheapest data plans for cell phones that can't be beaten by the big 3 mobile providers or even IoT data providers.
For a perfect IoT data plan example, see how to use a cell phone as a GPS tracker.
---
Who has the cheapest data plan?
These T-Mobile providers offer the best prices for 4G/5G data plans.