If you buy through affiliate links, we may earn commissions, which help support our product reviews.
Last Updated Oct 21, 2023
Welcome to the future, where IOT (Internet of Things) is a part of our daily lives. Have you ever left home in a rush, later worrying if you left the heater or A/C on? Or have you considered using expensive thermal cameras to detect temperature changes in your house? Do you stress about your plants wilting due to heat or water pipes freezing at home in the winter while on vacation? We've got your back – Plug-in WiFi temperature sensors.
These devices are changing our lives, offering peace of mind, security, and temperature control like never before. You can now monitor your home or other property's temperature and humidity levels from anywhere using your smartphone—no more anxiety over unexpected temperature changes while you're away.
These smart gadgets, including the popular nest temperature sensor, simplify our lives in ways we couldn't imagine. So, lean back, get comfortable, and prepare for a deep dive into the intriguing world of WiFi temperature monitoring. But be warned, once you know about these sensors, there's no going back to life without them! Ready? Let's get started.
In a rush? Check out 3 of the best WiFi temperature and humidity sensors below:
At a Glance: Top 3 Plug-in Wifi Temperature Sensors
What is a Plug-in WiFi Temperature Sensor?
A WiFi temperature sensor, sometimes used in storage units and vacation homes, is a compact, smart device that monitors and records the ambient temperature in its immediate surroundings.
A temperature sensor, often battery-powered, has built-in WiFi and effortlessly connects to any standard power outlet or USB. Its versatility and convenience make it perfect for monitoring temperatures in homes, offices, or any other indoor space.
These sensors capture temperature data and transmit it wirelessly via WiFi to a designated device, usually a smartphone or computer. You can access this data through a dedicated app or an online platform provided by the sensor's manufacturer. This real-time information allows you to monitor and control your home's climate for peace of mind around the clock.
Many sensors also have a feature that sends app notifications if the temperature exceeds or falls below a specified range, ensuring immediate response to potential issues. Thus, a plug-in WiFi temperature sensor offers convenience, control, and peace of mind.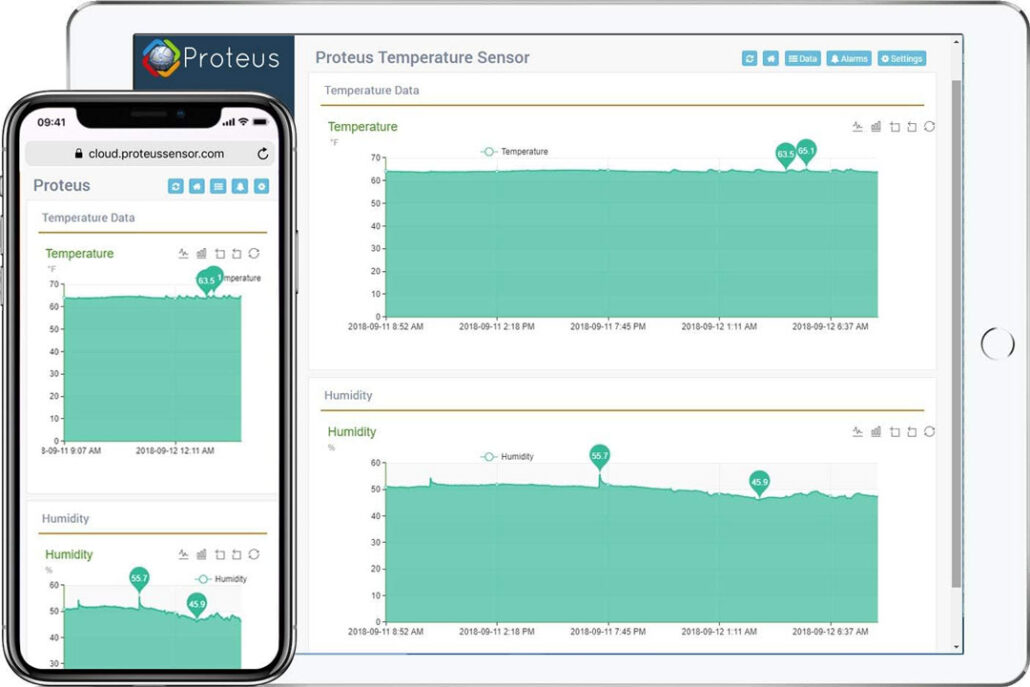 Benefits of Plug-in WiFi Temperature Sensors
There are several reasons why installing a WiFi temperature sensor is becoming increasingly popular among homeowners, businesses, and renters. Here are some of the main benefits that these devices offer:
Remote Access: Monitor your home's temperature anywhere with plug-in WiFi temperature sensors. All you need is a smartphone and an internet connection, ensuring you're always in the know, even when you're far from home.
Real-Time Alerts: Get instant alerts if the temperature exceeds the set limits, preventing potential damage caused by extreme temperatures like freezing pipes or overheating home appliances.
Energy Efficiency: These sensors help reduce unnecessary energy consumption by allowing remote temperature monitoring, contributing to energy efficiency and cost savings.
Easy Installation: These devices are easy to install and don't require professional help. Plug them into any power/USB outlet and connect to your WiFi network.
Peace of Mind: Gain peace of mind by remotely monitoring your home's climate. These sensors alleviate worries, whether it's your plants, pets, or property.
Data Logging: These sensors log temperature data over time, providing valuable insights into trends and anomalies. Critical for troubleshooting issues and maintaining an optimal home environment.
Limitations of Plug-in WiFi Temperature Sensors
While plug-in WiFi temperature sensors offer several benefits, it's essential to understand their limitations before purchasing. Here are some factors to consider:
WiFi Range and Connectivity: The sensor's performance depends on the strength of your WiFi network. Placing the temperature sensor in an area with a weak signal or out of range may affect its functionality.
Power Outages: While most sensors have battery backup, during power outages, these sensors may lose WiFi connection and the ability to transmit data. This can be problematic if you rely on real-time temperature alerts during extreme weather conditions.
Limited Monitoring Area: Plug-in WiFi temperature sensors are designed for specific areas or rooms. Monitoring different areas may require multiple sensors.
Maintenance: Like any electronic device, plug-in WiFi temperature sensors need occasional maintenance and troubleshooting for optimal performance. This may involve backup battery replacement or device resetting for technical issues.
---
Top 3 Plug-in WiFi Temperature Sensors Reviewed
Trakkit WiFi Temperature & Humidity Sensor
Features and Set Up:
The Trakkit WiFi Temperature & Humidity Sensor stands out with its compact size and user-friendly interface. It offers real-time temperature and humidity monitoring, ensuring optimal conditions in your home, office, storage units, or RV (powered by the best 12v battery for RVs).
The temperature sensor runs on WiFi and updates data every four minutes for precise readings. It's easy to set up, too. Insert the backup batteries, plug into power via USB, connect the sensor to your home WiFi, and download the app to your smartphone.
Pros
Compact design
Real-time monitoring
Easy setup
Precise readings
Versatile use
Cons
I had issues connecting to WiFi at first
Performance & Overall Experience:
During a week-long trip to Florida, the Trakkit WiFi Temperature & Humidity Sensor performed exceptionally well, providing real-time data updates and alerts. Even while I was miles away, the sensor's consistent performance instilled a sense of comfort and reassurance. The ability to monitor my home's temperature and humidity levels from afar was indeed a game-changer.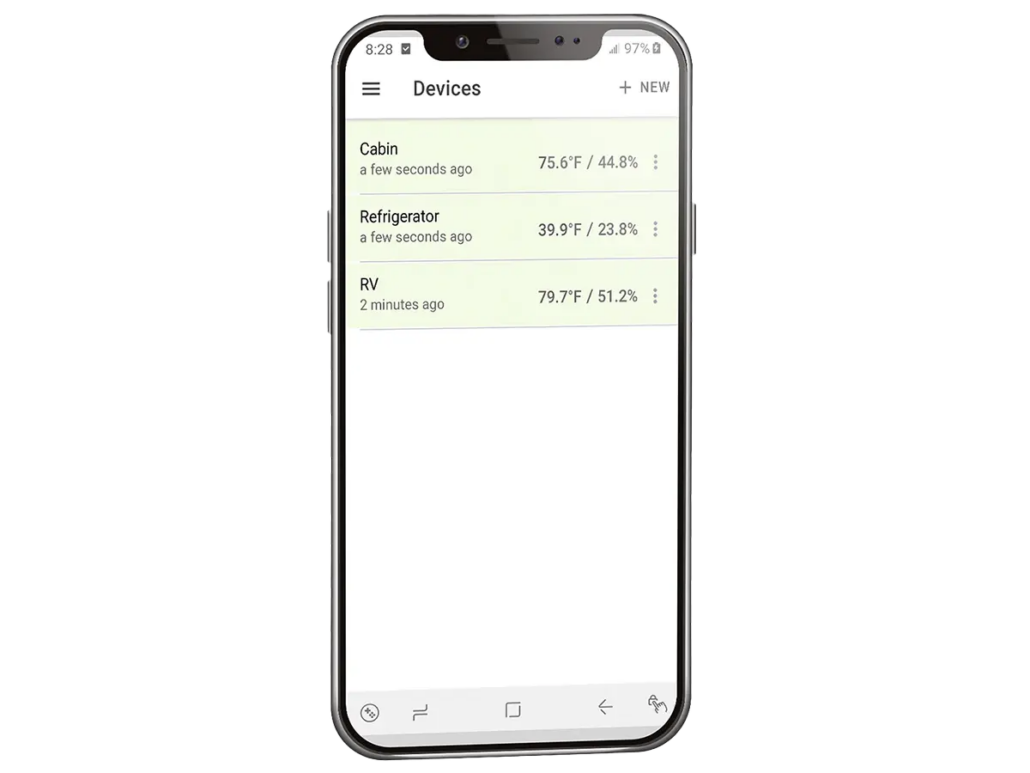 Tested Features:
Connectivity
Real-time updates
Alert system
Energy efficiency
Data logging
---
Proteus AMBIO WiFi Temperature Humidity Sensor
Features and Set Up:
The Proteus AMBIO WiFi Humidity and Temperature sensor is an exceptional smart home device. It sets up quickly, plugging directly into your wall outlet without needing a separate hub. Once connected to your home or office WiFi, it provides accurate, real-time data every 15 minutes, informing you about your home's indoor climate.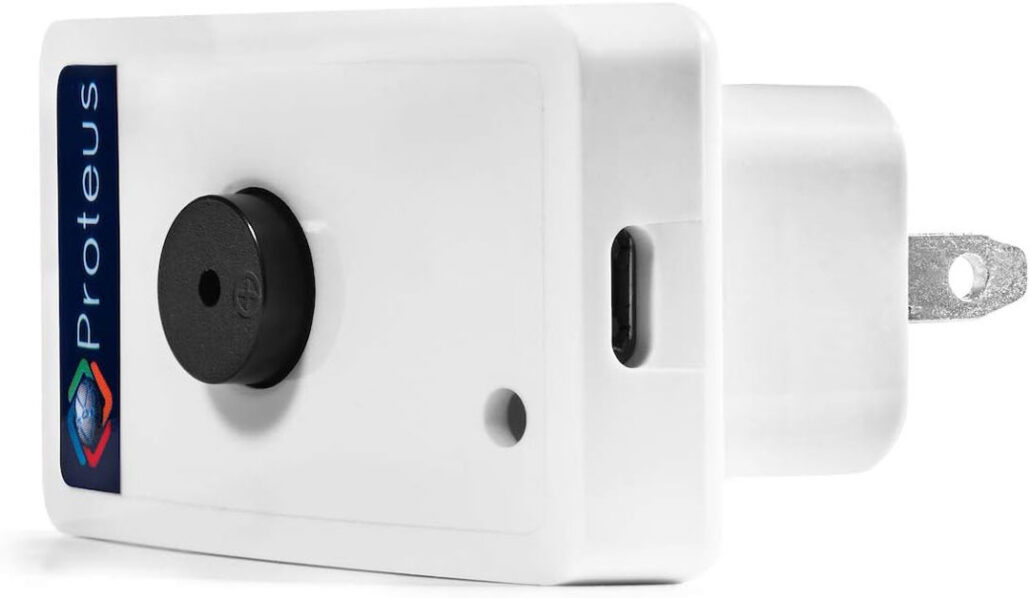 Pros
No monthly charges
Accurate readings
Easy setup
Multiple alert options
Power outage notification
Cons
Performance & Overall Experience:
The performance of the Proteus AMBIO WiFi Humidity and Temperature Sensor was nothing short of impressive. It provided consistent and accurate temperature and humidity readings, ensuring a comprehensive understanding of our indoor climate. We found the setup process straightforward and user-friendly, a definite plus for non-tech-savvy users. Overall, it's a reliable and helpful device for anyone seeking a smart indoor temperature and humidity monitoring solution.
Tested Features:
Temperature Accuracy
Humidity Precision
App notification alert Reliability
WiFi Connectivity
Setup Simplicity
---
MarCELL PRO: Wireless Cellular Temperature, Humidity, and Power Monitor
Features and Set Up:
The MarCELL PRO Wireless Temperature, Humidity, and Power Monitor is a cellular-based sensor that works on the 4G LTE network. It offers real-time temperature and humidity monitoring without requiring a WiFi connection. The sensor also features battery backup, ensuring data transmission during power outages for up to 36 hours.
Setup is about as easy as it gets. The sensor comes pre-activated and ready to use right out of the box. Plug it in, download the MarCELL app, and start receiving temperature and humidity alerts.
Pros
Works without a WiFi connection
Battery backup feature
Sends alerts during power outages
Easy setup
Secure, no risk of hacking
Cons
Monthly cellular network charge
Performance & Overall Experience:
The MarCELL PRO proved to be highly reliable and efficient when put to the test during a severe blizzard we had last winter. Despite the harsh weather conditions, it performed impeccably, sending real-time updates about our remote cabin's temperature and humidity levels.
It operates through cellular networks, not requiring WiFi, which proved a significant advantage, ensuring uninterrupted monitoring and alerts even during power failures.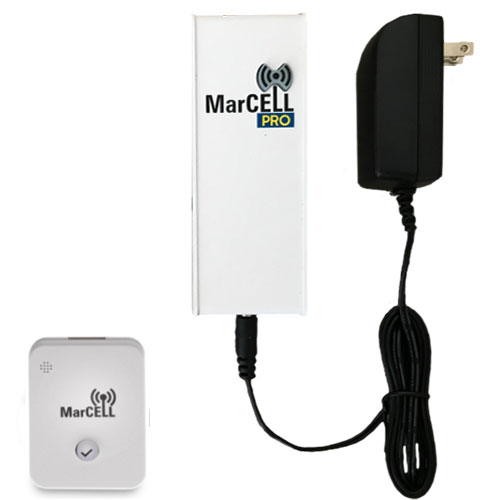 While it has limitations in freezer use, some of the best Wi-Fi freezer alarms designed explicitly for such purposes are worth noting.
Overall, it's a reliable choice for effectively monitoring home climate.
Tested Features:
Cellular Network Connectivity
Real-time Updates
Power Outage Alerts
Setup Ease
Security Features
To explore more options, check out the best Wi-Fi temperature sensors on the market for a comprehensive list and guide.
---
How to Set Up the Sensors and Monitor Temperature and Humidity Levels
Setting up and monitoring a plug-in WiFi temperature and humidity sensor is a straightforward process that anyone can manage, even without technical expertise. To ensure a seamless setup leading to efficient monitoring, carefully follow the steps outlined below:
Unbox and Plug-In: After unboxing your WiFi temperature sensor, find a suitable location to monitor your home's temperature. For uninterrupted performance, securely connect the device to a standard electrical outlet or USB in an area with a decent WiFi signal.
Download the Companion App: Each WiFi temperature sensor has a companion app mentioned in the user manual or on the product box. This app grants access to the sensor's data and settings. You can quickly get the app for free by downloading and installing it from either the Google Play Store or the Apple App Store.
Connect to WiFi: Launch the application and carefully follow the instructions to connect your temperature and humidity sensor and your home WiFi network. This involves entering your WiFi password in the app and waiting for the sensor and phone to connect.

*Remember, during this setup, the sensor and your phone should be on the same WiFi network.

Configure Settings: Configure the sensor's settings to your preferences once connected. Set the temperature and humidity sensor and specify what happens if the temperature falls or rises outside this range. For example, you can configure the sensor to alert your phone if the temperature drops below freezing.
Monitor: With everything set up, start monitoring the temperature in your chosen space. The sensor will track the ambient temperature and relay this information to the app on your smartphone. Access this data anytime, anywhere, as long as your phone has internet access.
Remember, every WiFi temperature and humidity sensor is slightly different, so the exact steps may vary. Always refer to the product's user manual for the most accurate instructions.
Conclusion
In summary, plug-in WiFi temperature sensors, comparable to the nest temperature sensor, are advantageous to any home, offering benefits such as remote access to temperature data, real-time alerts for temperature fluctuations, temperature control, energy efficiency, easy installation, peace of mind, and data logging.
These devices are simple to set up and operate, making them accessible to all users. They provide a unique combination of convenience, control, and efficiency, significantly contributing to more innovative and sustainable living.
With the increasing adoption of technology in homes, including voice assistants, it's worth considering integrating these sensors into your day-to-day life. Embrace the future of home monitoring and enjoy the benefits these devices bring to your comfort and convenience.
Frequently Asked Questions:
How does a WiFi temperature & humidity sensor work?
Using an integrated thermometer, a WiFi temperature and humidity sensor measures the surrounding temperature. It wirelessly sends this information to a connected device, like a smartphone or tablet, via WiFi using a companion app. The temperature humidity sensor provides real-time updates and notifications if the temperature exceeds a threshold.
How can I monitor my house temperature remotely?
To remotely monitor the temperature of your house, you'll require a WiFi temperature sensor and a smartphone or tablet with internet access. Once you have installed the sensor in your home and connected it to your WiFi network, you can conveniently monitor the temperature using a smartphone app.
What are some reliable brands of WiFi temperature sensors?
Some dependable WiFi temperature sensor brands include Trakkit, Govee, YoLink, and Proteus. These brands provide various features and price options to meet diverse needs and budgets. Researching and reading reviews before purchasing a WiFi temperature sensor is essential to ensure its reliability and performance.